How many licks does it take to get to the tipsy center of a lollipop? Now you can find out. Yeah, that's right, we've discovered what is sure to be your new favorite treat: alcoholic lollipops. Delicious and delightful. Few things are more fantastic than candy, it's true. One of those things might just be alcohol. So one absolutely genius company decided it was time to combine the two into a wild one-two punch of sweet goodness.
If you're a fan of sweets and you forgot to celebrate Valentine's Day last week, we'll make sure you've got something a little extra special to try with your sweetheart. These bright and boozy pops are the perfect addition to any date night or a Galentine's day celebration for the ages. Check them out because we know you'll want to buy them once you've seen just how amazing they look. These suckers have definitely grown up.
Ah the humble lollipop.
A childhood classic and a delightful treat for all ages.
The lollipop can improve any bad day.
And they make you look pretty dang cute when you eat one too.
But one company has given our favorite kiddish snack a glow up.
These are not your mama's suckers.
Imagine the best thing about being an adult.
Is it alcohol? Let's be honest, it's probably alcohol.
Now put the alcohol in the lollipop...
And shake it all up! Yup, these lollipops are alcoholic.
The Double Dipper is a Prosecco flavored lollipop.
But it's so much more.
This is a full experience.
You get two lollipops, plus a sweet peach gel and raspberry sherbet powder. The idea is to squeeze on the gel, dip it into the sherbet, then enjoy that sucker.
Oh, I am here for this.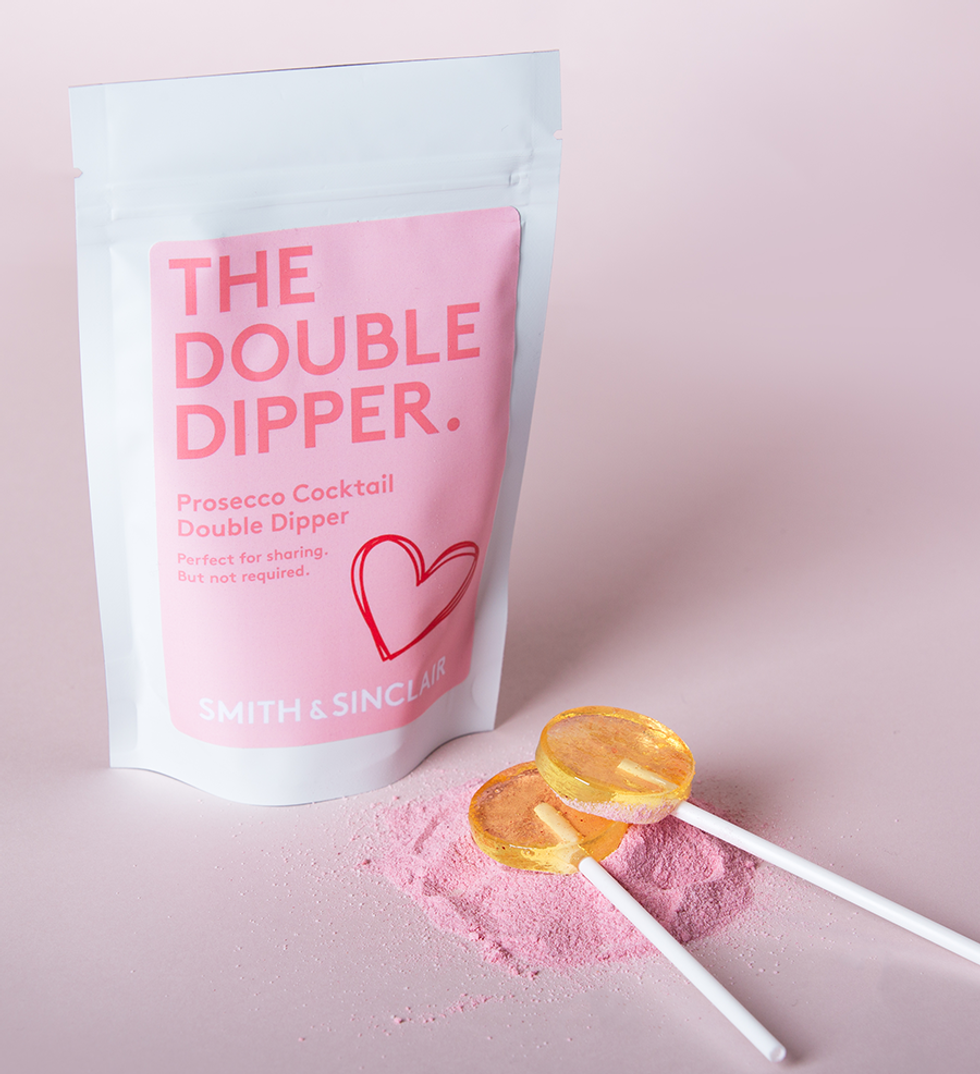 via: Smith & Sinclair
But the part where it gets especially exciting is the gel! That sweet peach goodness is a full 10% alcohol.
So not only do you get the sweet Prosecco flavors...
You also get to "eat your drink" as Smith & Sinclair likes to say about their products. Brilliant.
The brilliance of the alcoholic lollipop is that it's stealthy.
You can get wild anywhere and all people will see is someone innocently licking a sucker.
Who me? I'm not drinking at work.
Just having a little snack. Why do you ask?
No, I definitely didn't bring alcohol into this movie theater.
Just a tasty treat to keep me going through the film.
It turns out that chewable alcohol is a specialty at Smith & Sinclair.
If treats are more your speed, they've got you covered.
Maybe you prefer classic cocktails.
If you're not already convinced that you need to try some sweets from this company...
They describe themselves as Willy Wonka for grown-ups which is honestly what I've wanted since I became a grown up.
Even though they're based in London...
You can buy from anywhere in the world through their
online shop
.
But if you DO happen to be in London...
experiences
 based on their cocktail creations. Um, someone take advantage of this and invite the 22 Words crew, ok?
Of course, you MIGHT say that this is a repeat of the classic Fun Dips.
It does have a similar "dip and lick" mode of operation.
But did fun dips have BOOZE?
I think not.
Lucky for us, inventors never stop inventing.
The true heroes among us are the people who keep adding alcohol to places we never though it could or would be.
Of course, there is a limit to the alcoholic treats.
Smith & Sinclair cannot sell their alcoholic products to anyone under the age of 18. I guess 10% of alcohol is too much for those under the legal drinking limit.
What could be next in the boozy foods department?
Boozy cereal? I'd start my day like that.
But for the adults in the house...
This is a golden age of food invention. Bless you food gods.
If you could create a booze version of anything what would it be?
Maybe it's better to go the other direction.
What flavor of alcohol would you create if you could?
But if we're honest we don't really think we need any new alcohol treats.
We've got plenty to keep us satisfied.
Especially now that we can combine dessert with our drinks.
I think we've found peak alcohol creation.
Hats off to Smith & Sinclair.
Thank you for creating this delightful new dessert. Now excuse me I have to go see a website about a sucker.