Now, some of you may well want your wedding day to be a thirty thousand dollar affair. Apparently, that's how much the average wedding costs in the U.S. Do you know how many Mcdonald's chicken nuggets that could get you? Loads, it could get you loads.
There is a valid reason that I am comparing the price of a wedding with the cost of McDonald's nugs... You can now get married in Mcdonalds. Now, I'm not talking about nipping in there for a cheeky cheeseburger after the ceremony, I'm talking about having the whole thing in the restaurant.
That's right, the fast-food chain has decided to capitalize on the matrimony of marriage and they're now offering specially tailored packages.
Continue scrolling to find out what you get, where you can get it, and whether Ronald Mcdonald delivers the service.
He was a boy...
Casually sitting in a Mcdonalds, alone, eating those salty, salty fries.
She was a girl...
To quote the first incarnation of Avril Lavigne: "Can I make it anymore obvious..."
It's true, though...
Love really can blossom in Mcdonald's. This is exactly why the fast-food giant has decided that their restaurants would make the perfect venue for wedding parties.
"McDonald's is where their love stories grew."
Mcdonald's spokesperson, Jessica Lee, told
CNBC:
"We started the program because many customers tell us that McDonald's is where they first started dating." Gone are the days of being set up in your local church by your pastor... nowadays, young people are finding love in Mcdonalds. Lee concluded, "McDonald's is where their love stories grew."
Mcdonald's is a space for everyone.
3 yrs ago I sat here holding her after her dads tragic death in Honduras. Today I sit here before a wedding where… https://t.co/YZNCBwlWDy

— Julie Gacnik (@Julie Gacnik)1570382511.0
Like, take my mom for instance... She hates going out for food and wasting money on coffee. "We've got coffee at home," she would insist on every shopping trip when I'd start to drag my legs, wanting a caffeine fix. But she never minds nipping into Mcdonald's - the price of a black coffee doesn't break the bank in there and frugal Deb's can't deny the value of a cheeky cheeseburger. So, I've gotta say, I agree with the masses on this one. Mcdonald's is a warm, welcoming environment where relationships can grow. Whether that's with a new partner, with friends, or even with your parents. Now
that's
the kind of place
I
wanna get married!
Mcdonald's cater for everyone.
Husband is getting McDonalds en route to a vegan wedding, classic.

— eats & drinks in quarantine (@eats & drinks in quarantine)1570298809.0
None of that fancy hors-d'oeuvres crap, and no long wait for the main course. I'm talking a box of nuggets on every table, mozzarella sticks for the veggies, carrot sticks, and melon bags for the vegans... Then we bring out the starter: French fries!
With an assortment of dipping sauces. 
For the main course? Burgers, loads of them and wraps for those that don't like burgers and more french fries for those that don't like either. Heck, anyone on a diet? Don't worry about it... You can have a salad! For dessert, we'd, of course, serve soft-serve ice-cream cones, Mcflurries, and apple pies.
Ain't no party like a Mcdo party.
As someone that no longer drinks, I guess it would be kind of awkward for me not to provide alcohol at my wedding... but, at the same time, it's kind of annoying to have to spend all that money when I don't drink. Fortunately, getting wed at Mcdonald's comes with a no-liquor rule, which would probably pass by unnoticed. My guests could have unlimited soda and milkshakes etc and, as the evening ensued, I would provide coffee and sugared donuts.
YouTuber, Safiya, recently got married in a Mcdonalds.
After posting a video of the day online, it quickly became viral and the Mcdonalds wedding day package blew up. With over five million views, everyone is now talking about Safiya Nygaard's big day.
Safiya was already a trendsetter.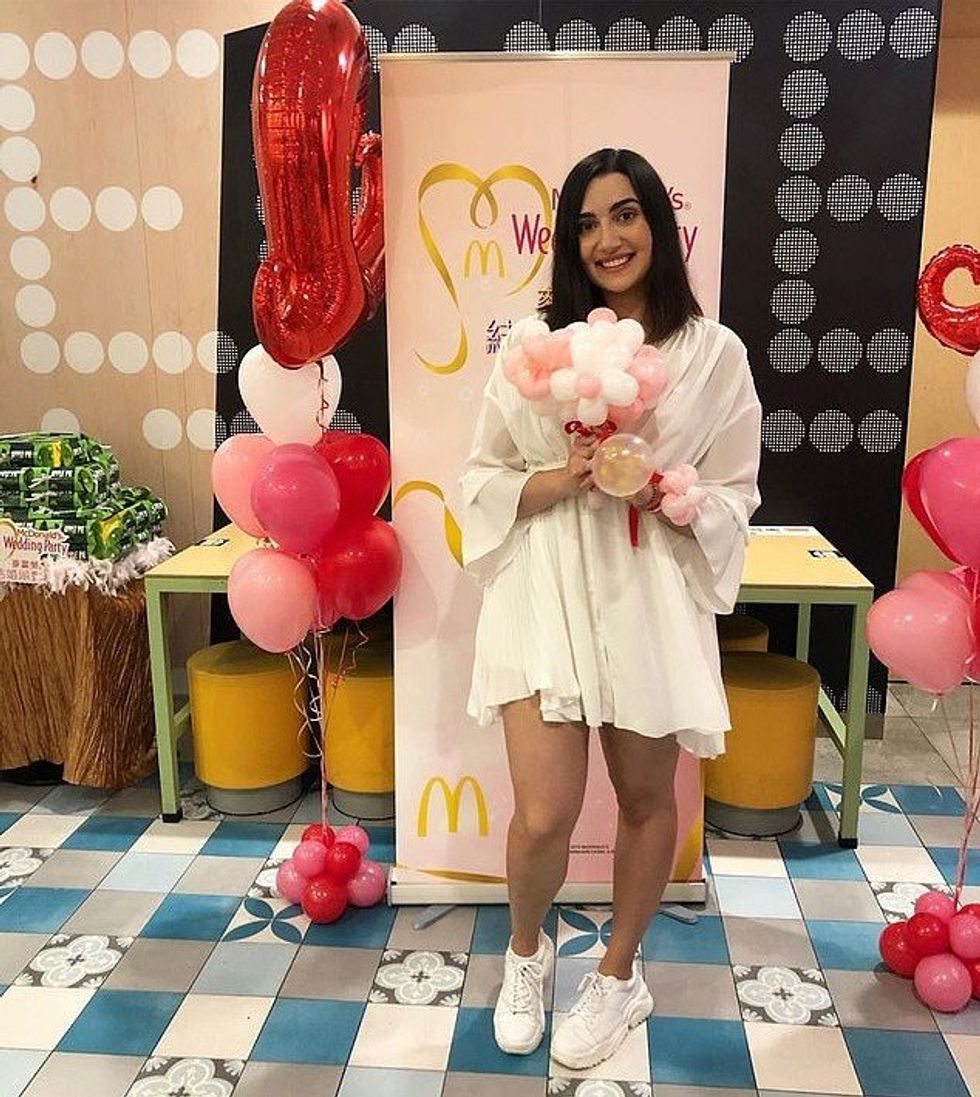 Disclaimer: "This is not our actual wedding."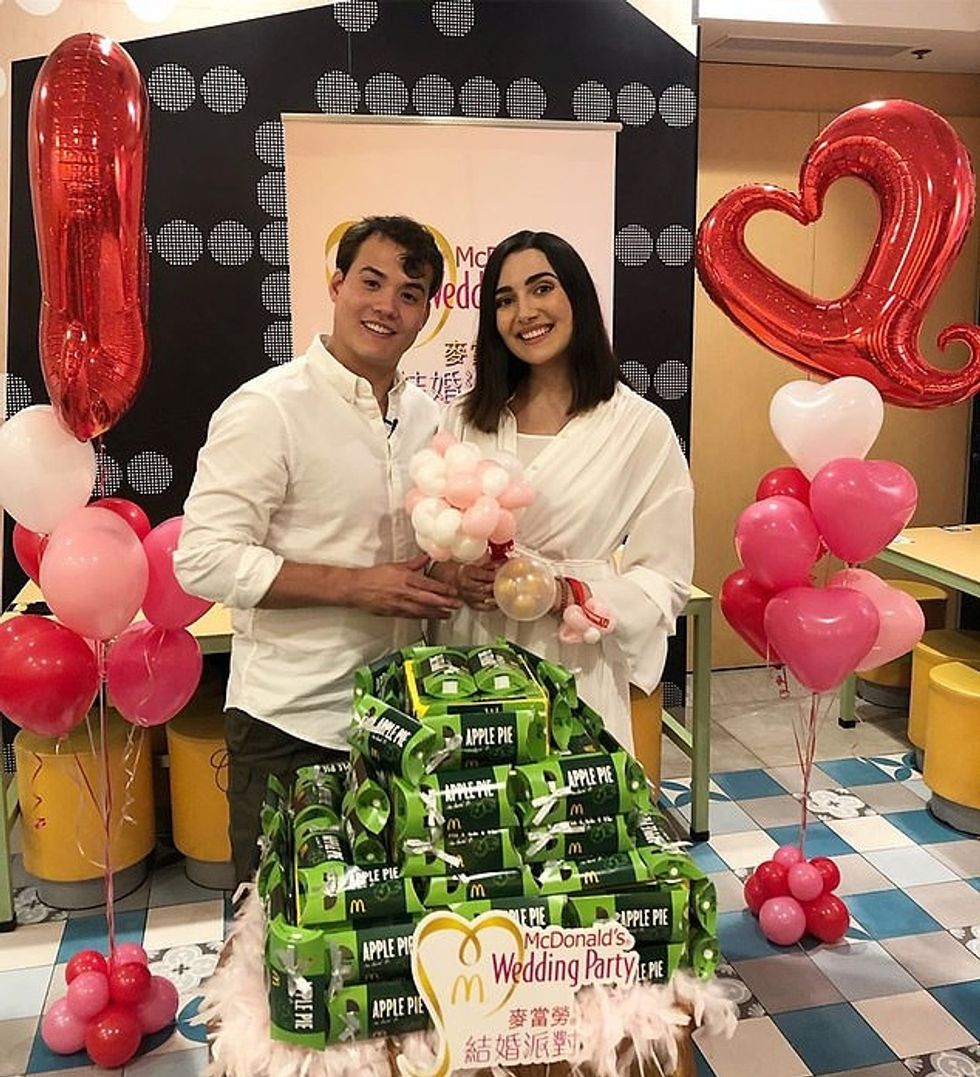 It's all about the detail...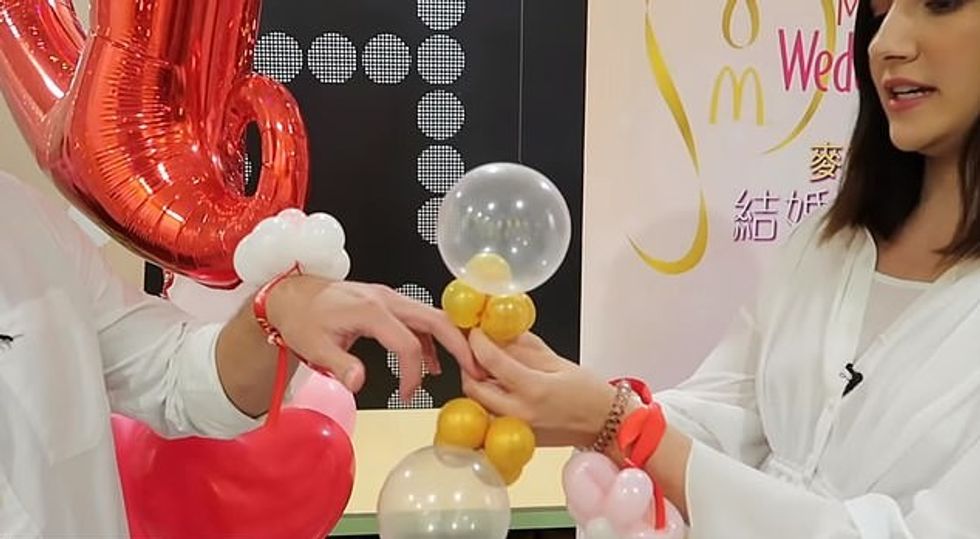 So very wholesome!
safiya had a mcdonalds wedding and it was fun n wholesome

— sage♿ (@sage♿)1569833929.0
It really is a pity that this service is currently only available in Hong Kong. Frankly, now I've seen it, there's no other kind of wedding I'd want to have.
America, give the people what they want!
I learned you can get married in some Hong Kong McDonalds, which is now the best wedding you can have, no debate.

— The KGB 🧼👅 (@The KGB 🧼👅)1569874029.0
I think that it's fair to say that America, the birthplace of Mcdonald's, deserves to have Mcdonald's wedding packages available. Most of our good nation probably met their soul mate in the beloved fast-food joint. Most of us had our first date there, had our first kiss in there, got our first break-up mozzarella sticks there...
Mcdonald's is an American comfort.
Like a loyal friend, Mcdonald's is always there for you. Maccies is there for you twenty-four hours a day, it feeds you, it shelters you, it sometimes has crayons and paper for you to scribble on. "What kind of friends have you got?," I hear you grumble. Art school friends, of course!
Did you even get married if you didn't get a Mcdonald's?
If your best friend doesn't ask to stop @McDonalds on the way to her wedding, get a new best friend. https://t.co/OPOFZ0VIew

— 👽 caroline 👽 (@👽 caroline 👽)1569970077.0
I don't know why anyone bothers getting fancy caterers for their wedding day. Who wants to eat soup followed by some meat and two vegetables followed by some lame-ass pie? Give the people what they want; give the people cheeseburgers.
Don't think that the Mcdonald's package isn't sophisticated...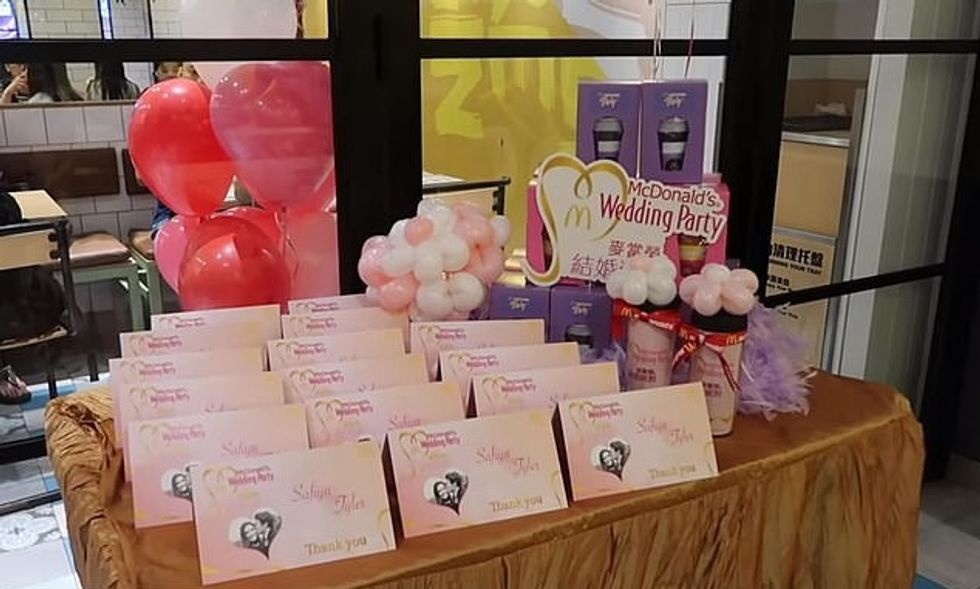 To have and to hold...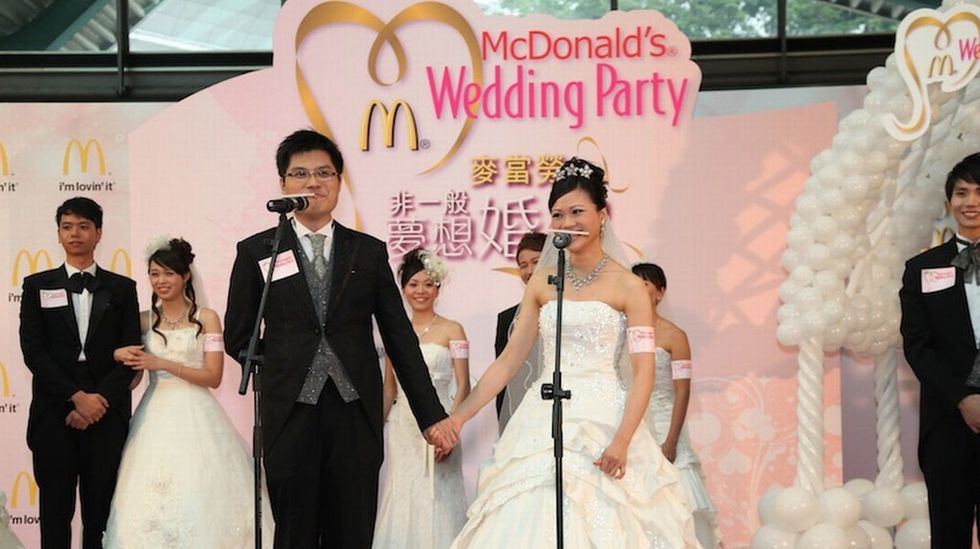 via: Twitter
..to remind me to finish my chips before they go cold.
I mean, some couples are getting Mc-Wed without the package.
I mean, really, it doesn't matter where you are...
First comes love, then comes marriage...
..then comes a baby in Mcdonald's takeout bag. From the looks of it, Ronald Mcdonald doesn't actually make an appearance at the ceremonies in Hong Kong. Personally, I'd prefer it that way. He's just got sort of creepy vibes, don't you think?
You can watch Safiya's "Big (Mac) Day" here:
If this doesn't persuade you that having a Mcdonald's wedding is the best idea ever, then you clearly don't understand the values of holy matrimony. If you want to read more Mcdonald's related content, then continue scrolling. This next story is all about a tiny Mcdonald's exclusively for bees. Cute, right?