Every September and February, designers, brand executives, photographers, celebrities, and socialites gather in New York to celebrate fashion, and preview looks for the upcoming season. The press hunts for trends, buyers place orders, and socialites take in the spectacle of it all.
We've compiled our favorite photos, from subtle to outlandish, hip to ridiculous, sleek to scary, and all of the above rolled up in one.
From wearable to just for show, these runway ensembles are ones you won't want to miss.
This ethereal strapless gown is in the Pamella Roland Spring 2018 collection.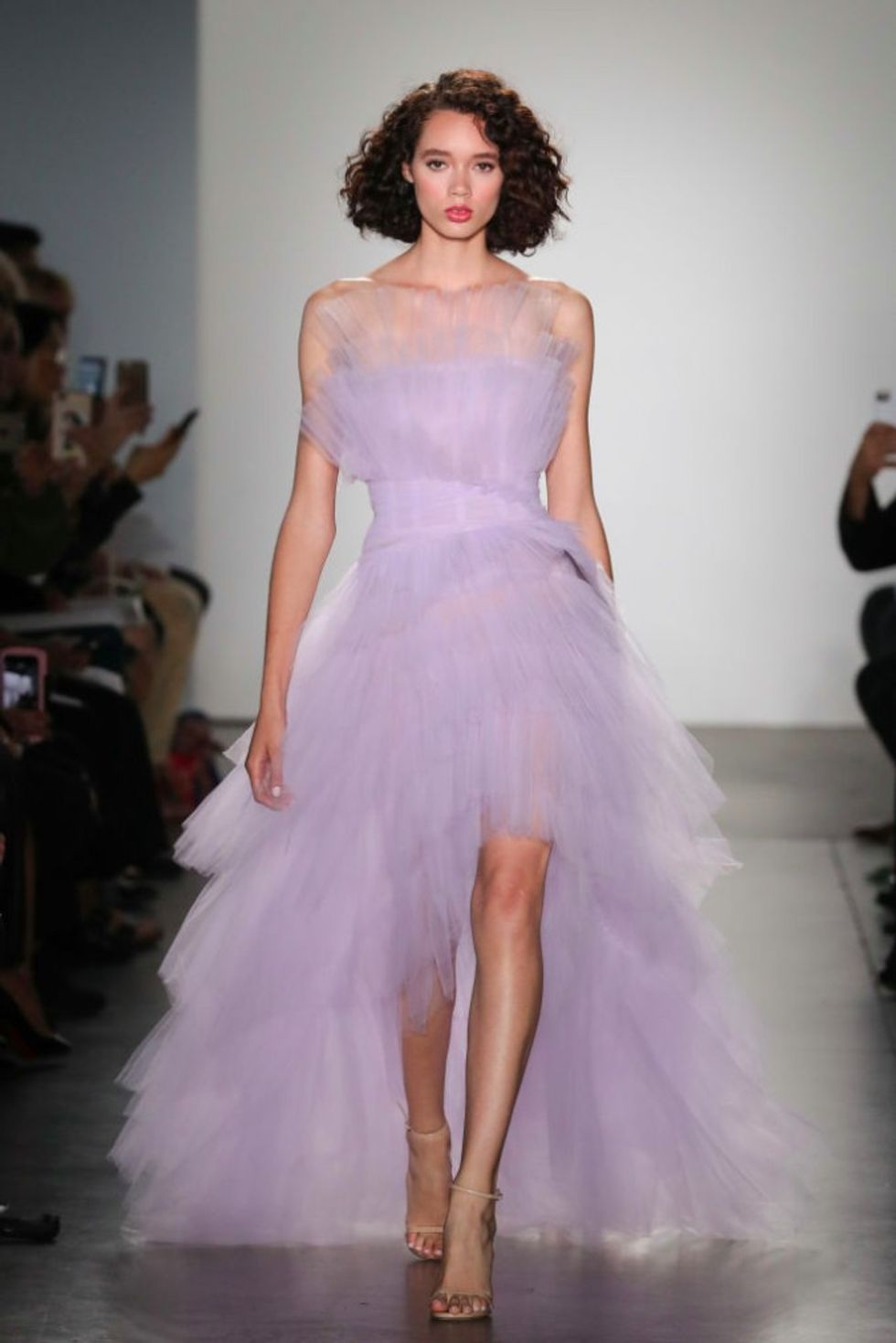 The designer said she was inspired by the beauty of Monaco. The idea behind the collection is that all the pieces are 'ready to wear', unlike some of the more artsy, eccentric styles that debut during fashion week. Snuggle factor: 3/10
The models weren't the only ones on show.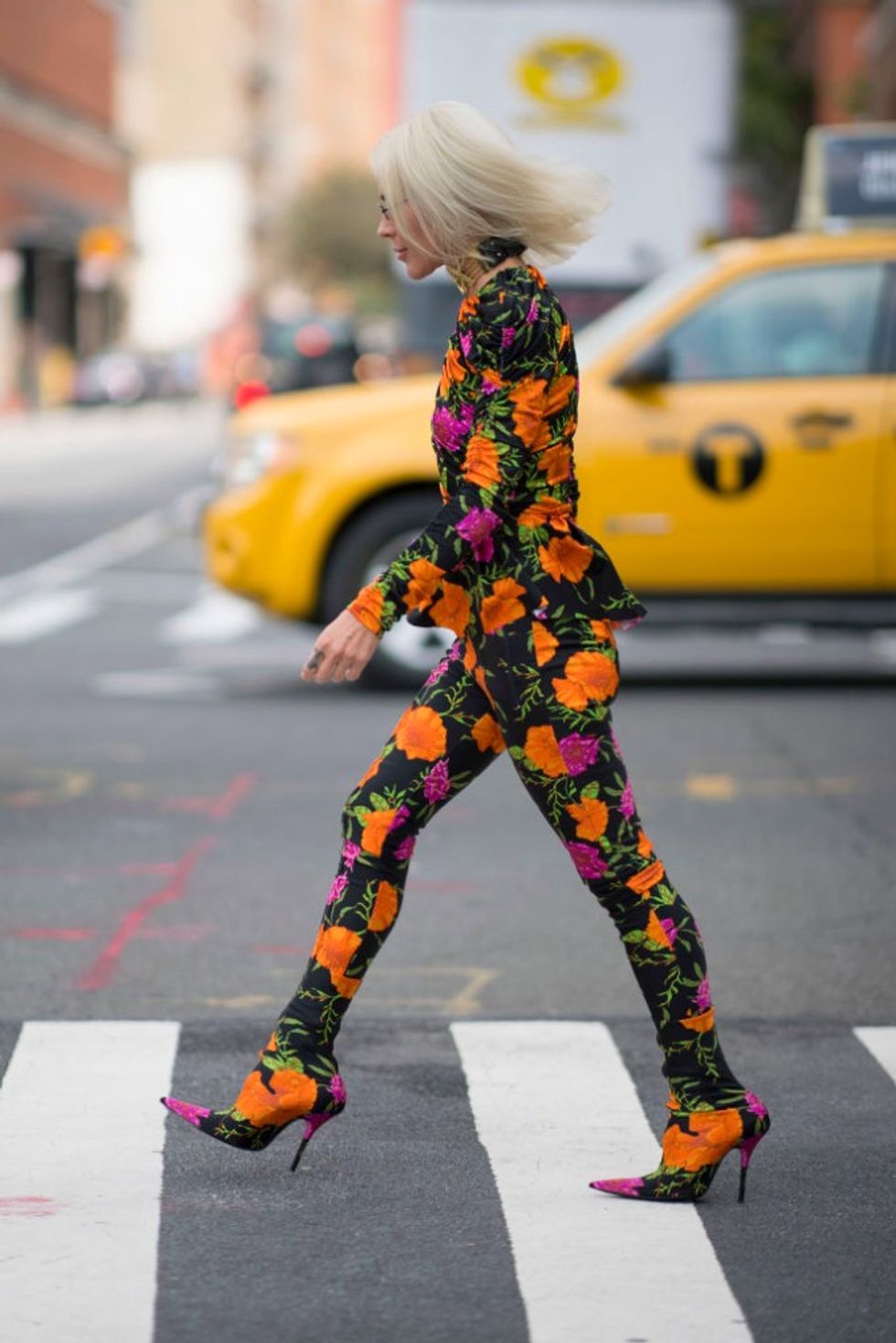 A fashion week guest wore this floral print head to toe while attending fashion week. Matching all over definitely takes the guesswork out of getting ready.
Model and designer Barbara Regna wore feathers and ruffles to the Malan Breton show.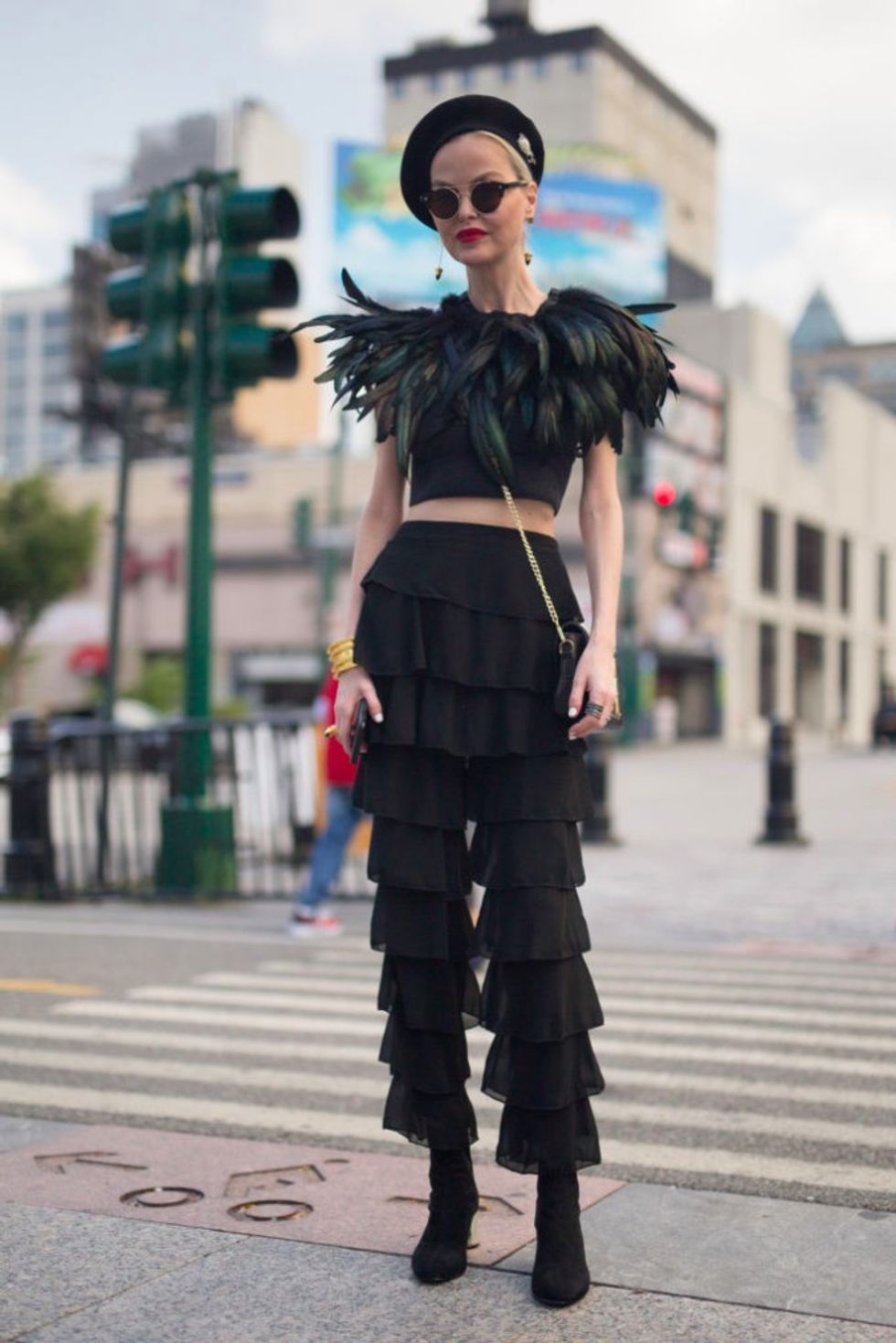 She topped off her all-black-everything look with a beret and trendy shades. Barbara's website says she likes to make wearable art out of things like luxury race car parts and semiprecious metals. Snuggle factor: 6/10
This silky gown is from Bibhu Mohapatra, whose collection is also 'ready to wear'.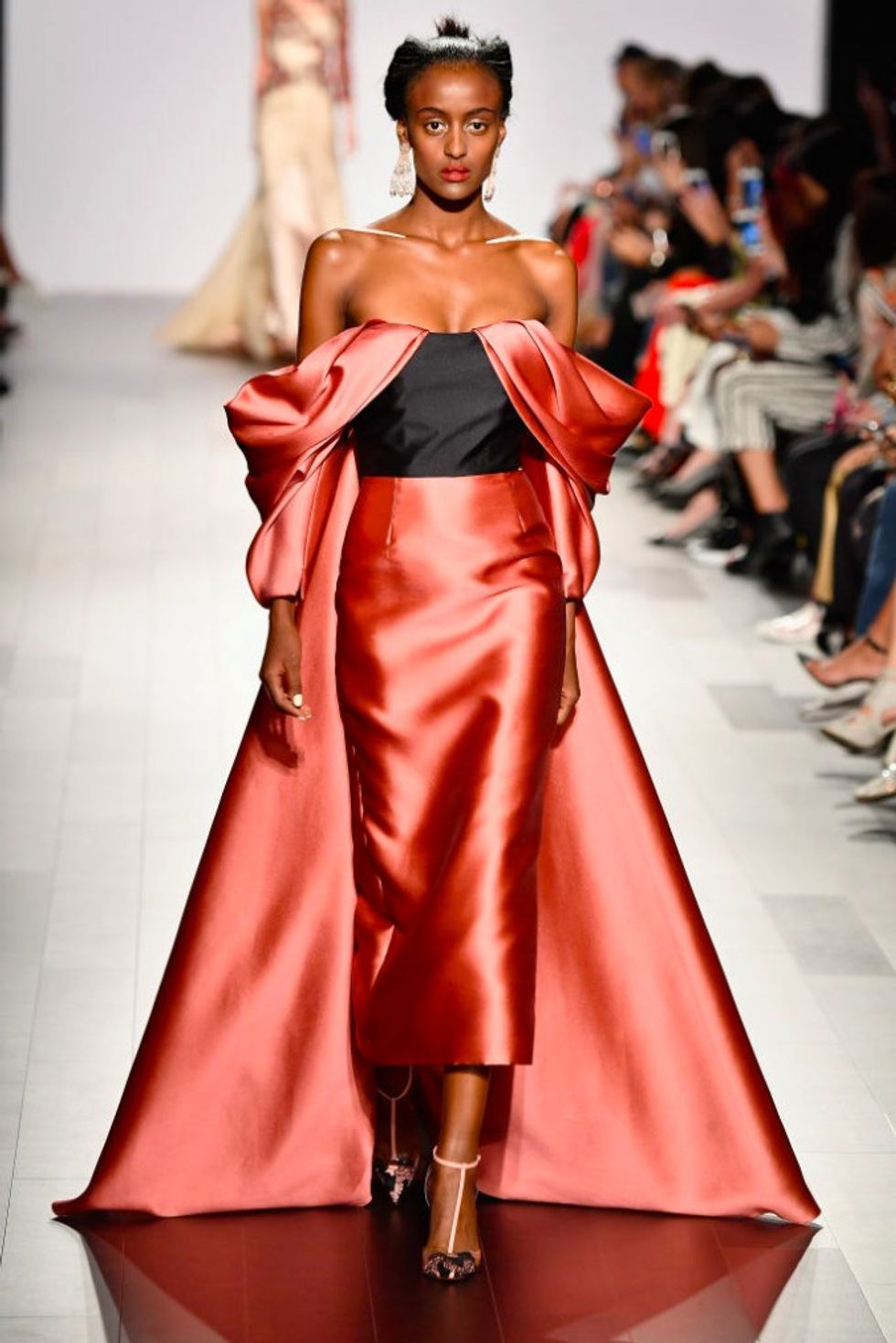 Mohopatra specializes in luxury women's wear. First lady Michelle Obama is one of his clients! His stuff sells around the United States in stores like Nordstrom and SAKS. " Snuggle factor: 3/10
This ruffly, gauzy number was created by Jeremy Scott, who is an American designer.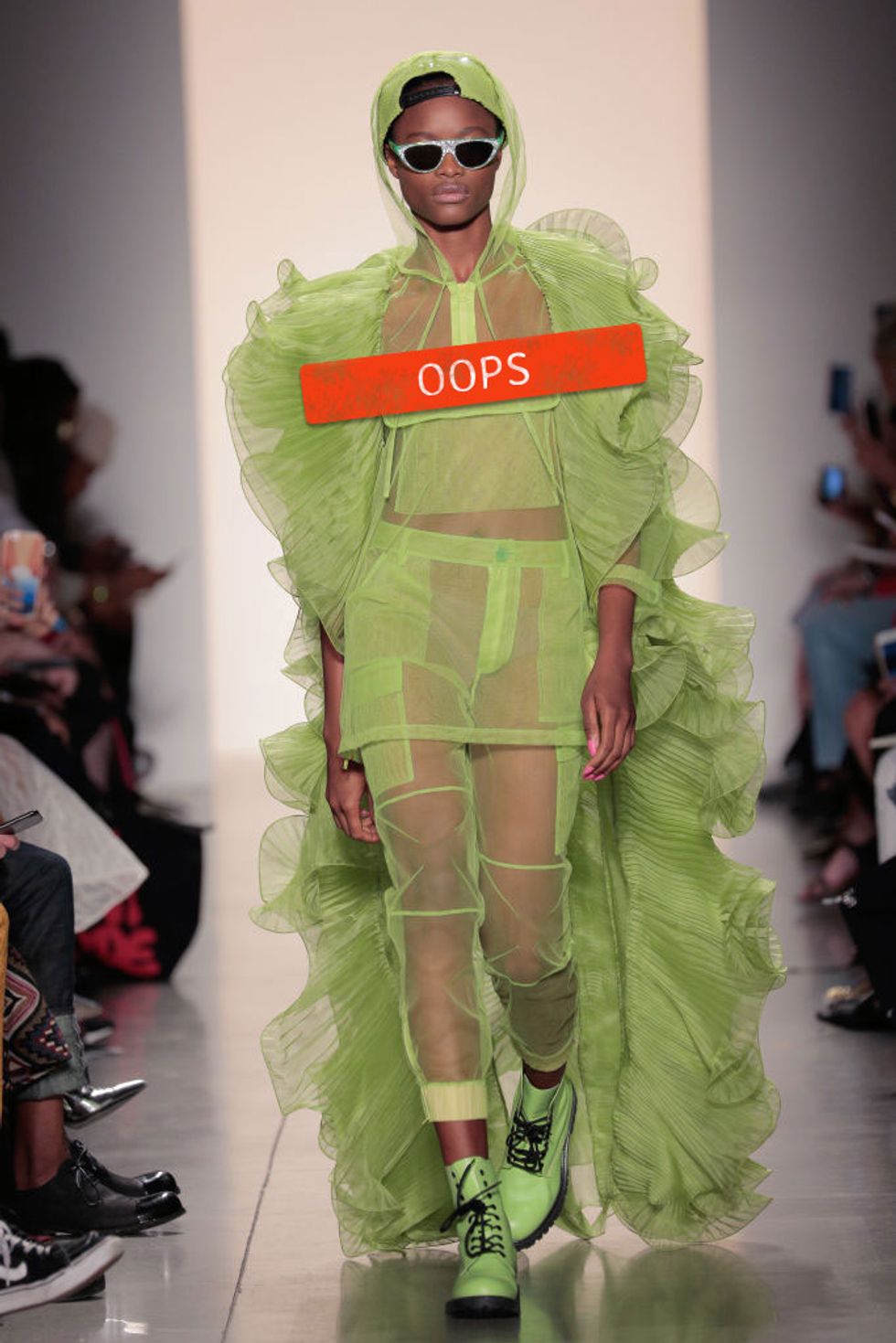 Scott is the creative director behind Moschino and designs for Katy Perry, Madonna, and Miley Cyrus. We're not sure where one would wear this outfit. Maybe to the gym or while lounging around in a sunroom? It seems like it would be a great beach outfit, but those neon green boots could be a nuisance in the sand. Snuggle factor: 2/10 Keep reading for more cool and off-the-wall styles.
This skate-savvy outfit is by Calvin Luo, a Chinese designer.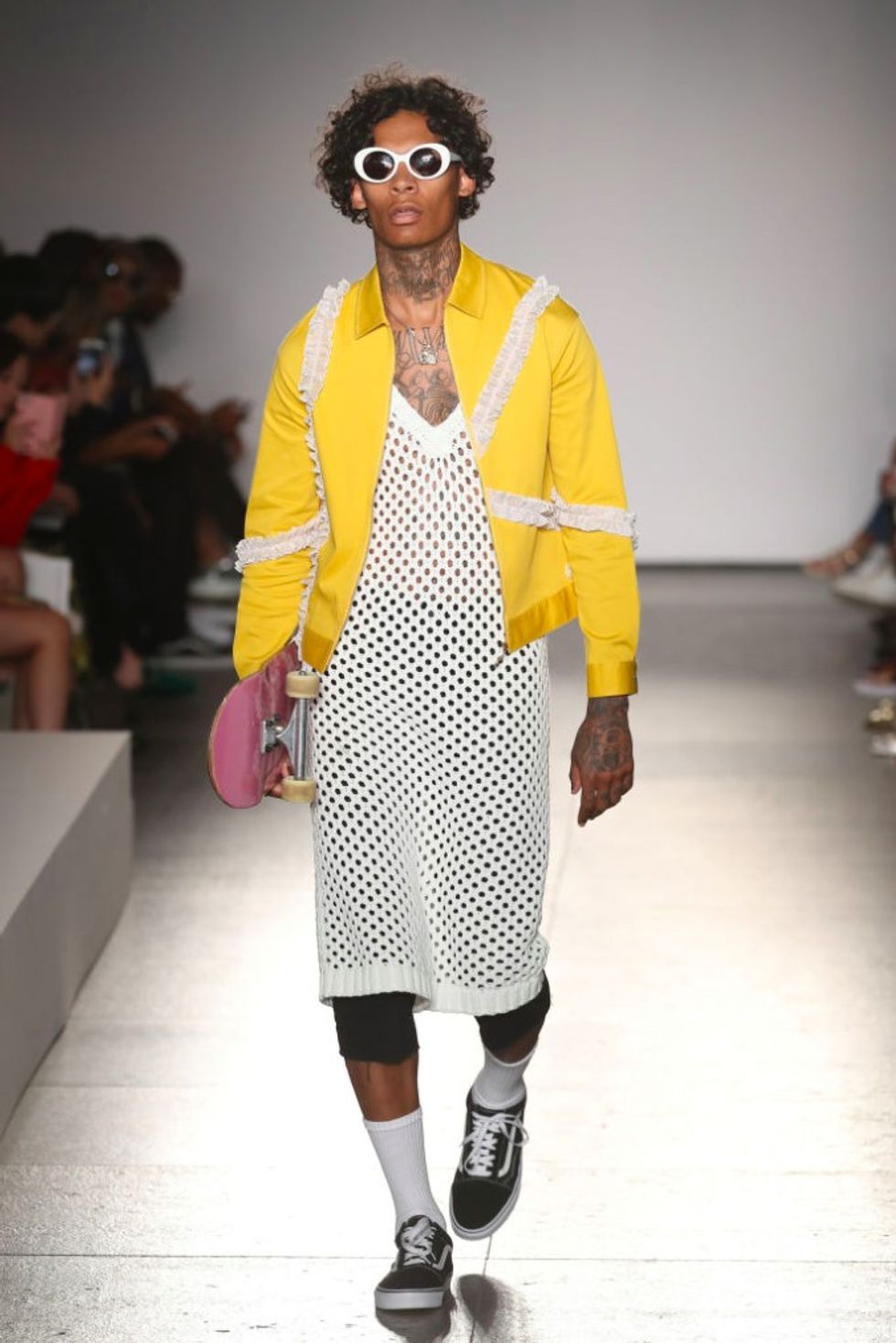 Calvin creates unisex collections and is the youngest designer to present his collection in New York Fashion Week! Would you wear this ensemble out on the town? Snuggle factor: 7/10 (That mesh could get chilly, though.)
Hijo Del Indo took it back to the '90s when he wore a color-blocked collar polo, windbreaker, and track pants to the Son Jung Wan show.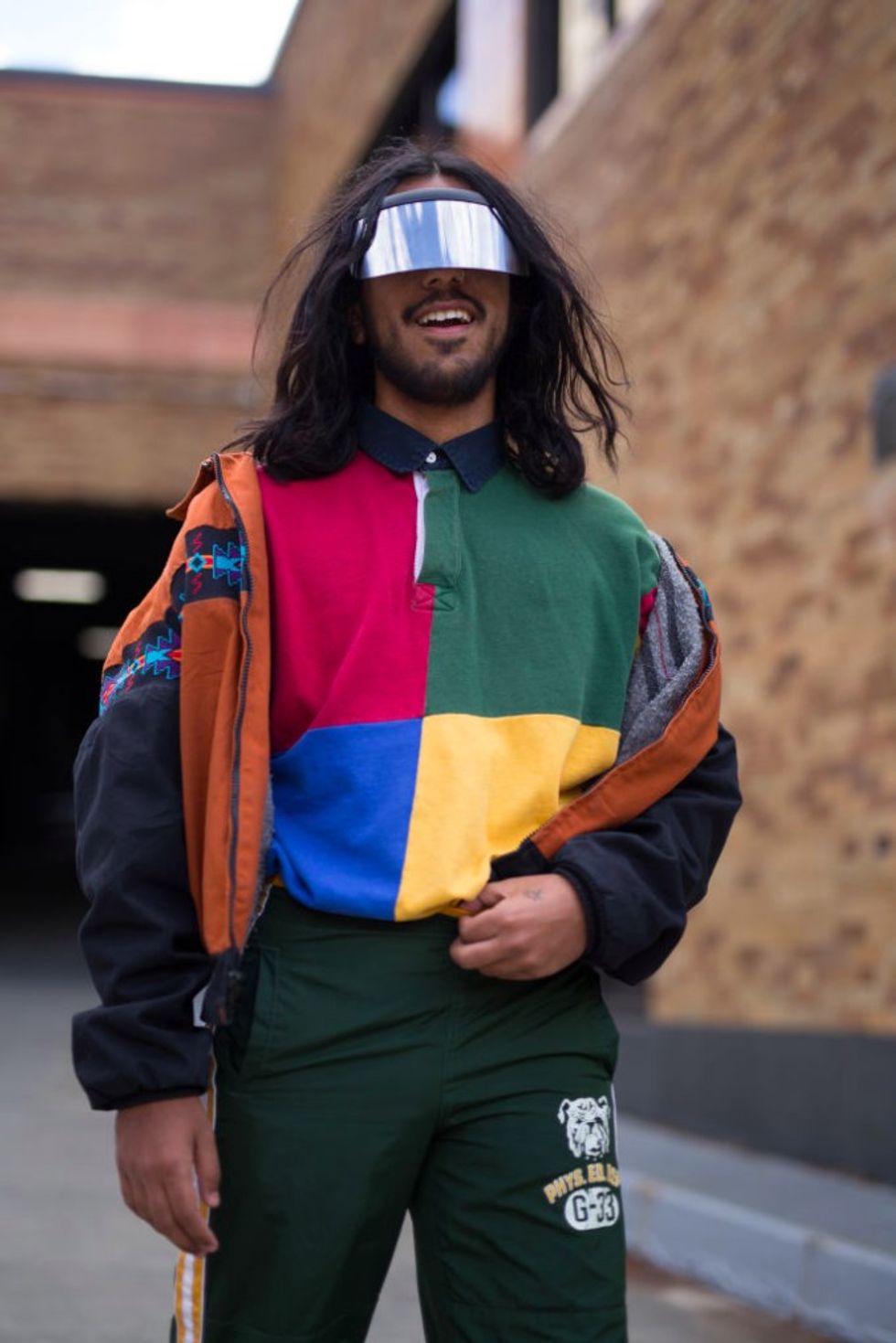 Do you remember wearing things like this back in the day? It's decidedly more comfortable than some of the other outfits worn this week. His futuristic shades reminds us of that visor Frozone from The Incredibles. Snuggle factor: 9/10
These intricate pants were designed by David and Phillipe Blonds.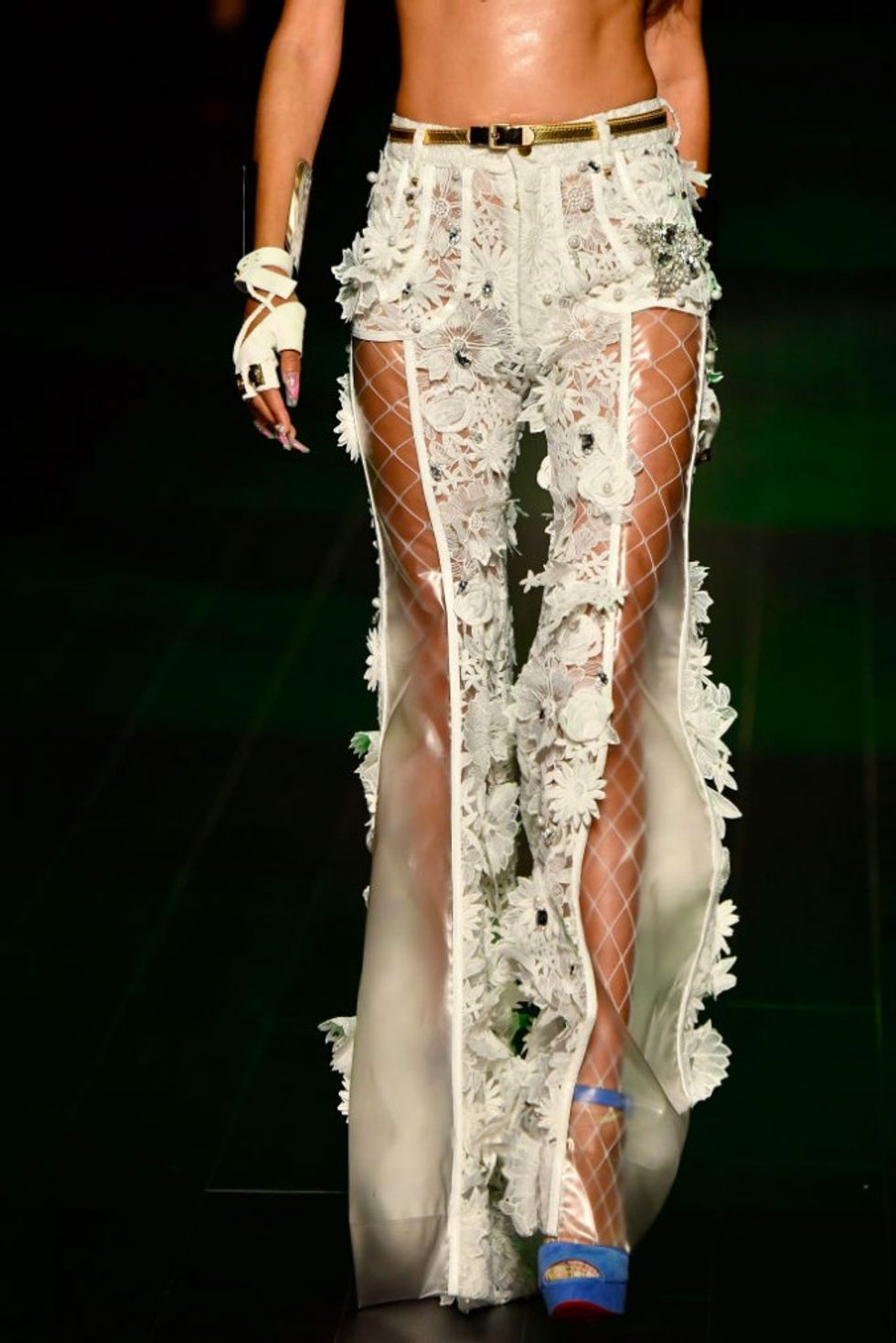 The Blonds are known for creating over-the-top collections that cater towards the entertainment industry. Their goal is to accentuate the models' bodies while using a creative mix of fabrics and embroidery. Snuggle factor: 3/10.
This is another fierce look by the Blonds.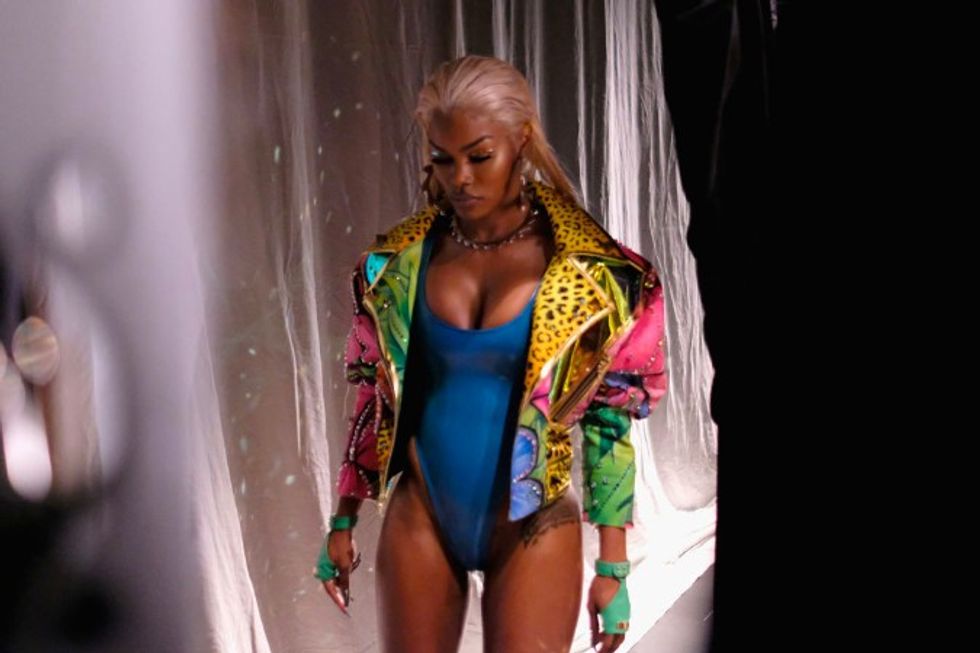 This eclectic leather jacket and motorcycle gloves contrasts with the sleek body suit and metallic jewelry. Would you wear this to the beach or out to a club? Snuggle factor: 1/10.
This model is all tied up in a giant floral bow and a tan trench coat.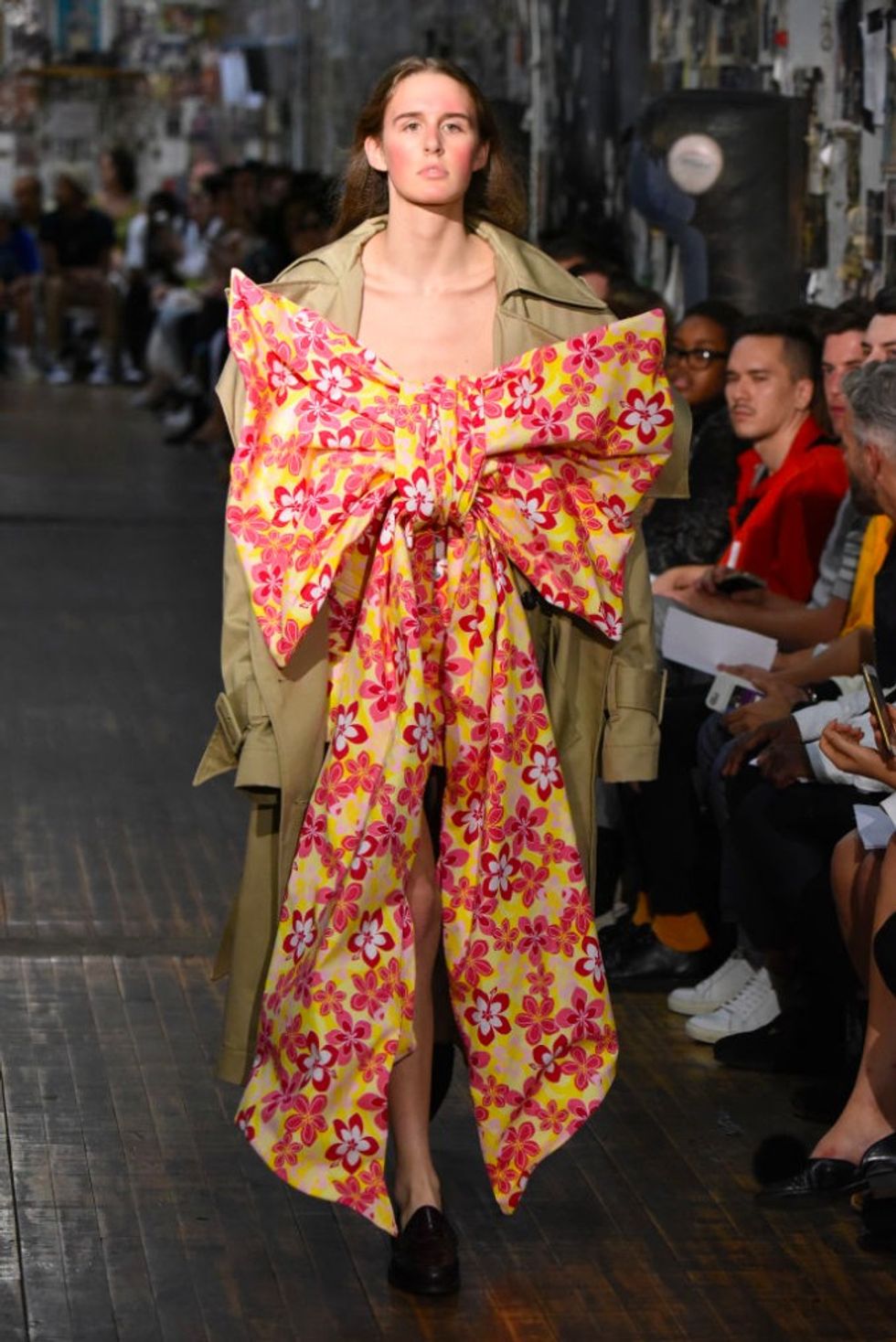 The creators of the this collection, Vaquera, say its ready to wear, but we're not sure everyone agrees. The brand was created in 2003 as a reaction to "lack of diversity in the contemporary fashion scene", according to the brand's website. Snuggle factor: 7/10. This isn't the most off-the-wall of the styles in their show. Our favorite is...
...this voluminous white robe.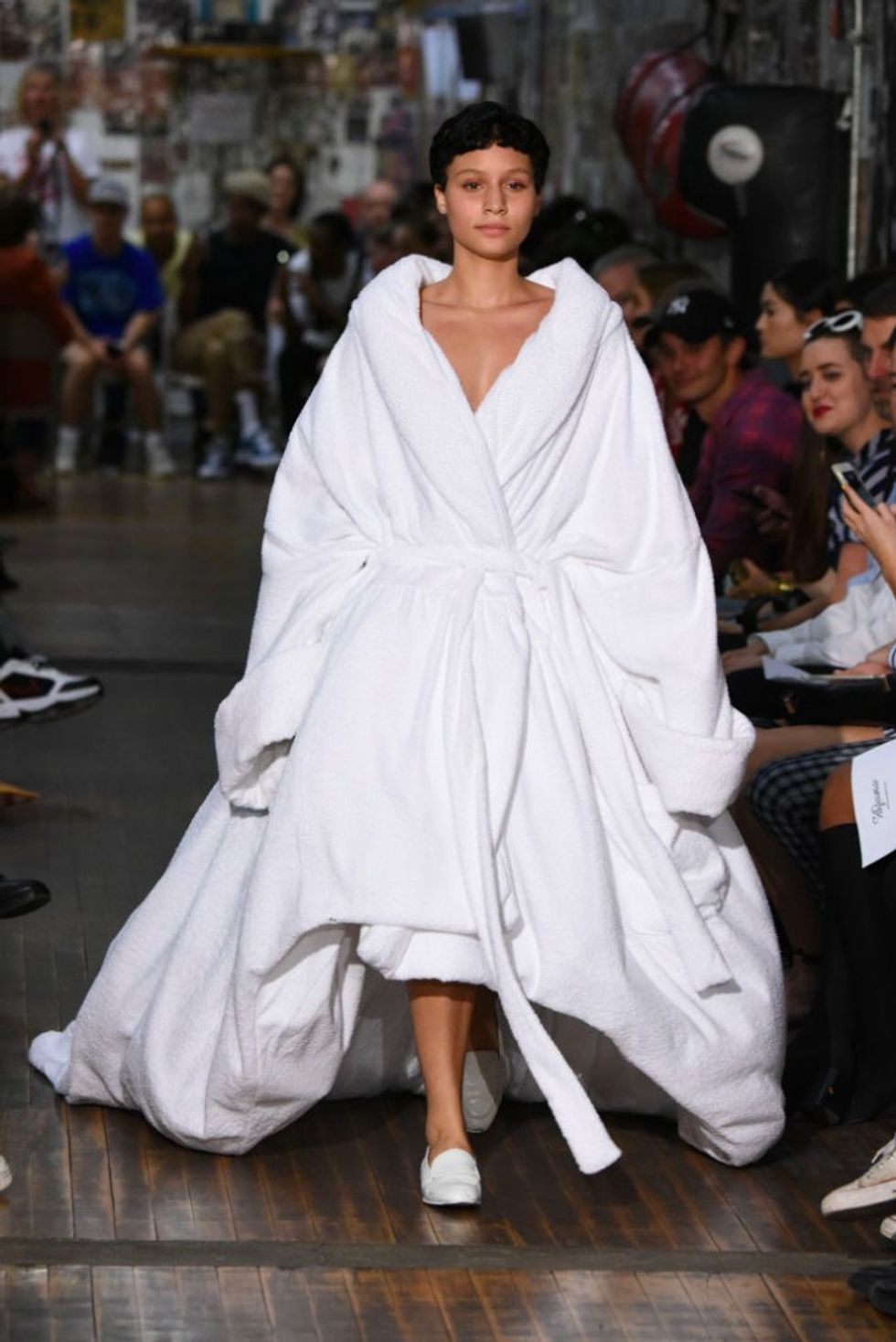 Because if we could wear this every day we would be the happiest, most comfortable, queens and kings of the bathrobe trend that you've ever seen. Please, can there be a bathrobe trend? Think about how much easier it would be to get out of bed in the morning if you could slip into a plush bathrobe that you got to wear all day. Plus, look at that silhouette. We're here for bathrobes becoming high fashion. Snuggle factor: 10/10.
Also from Vaquera, this looks like a mash-up of that suit that Cher Horowitz wore in Clueless.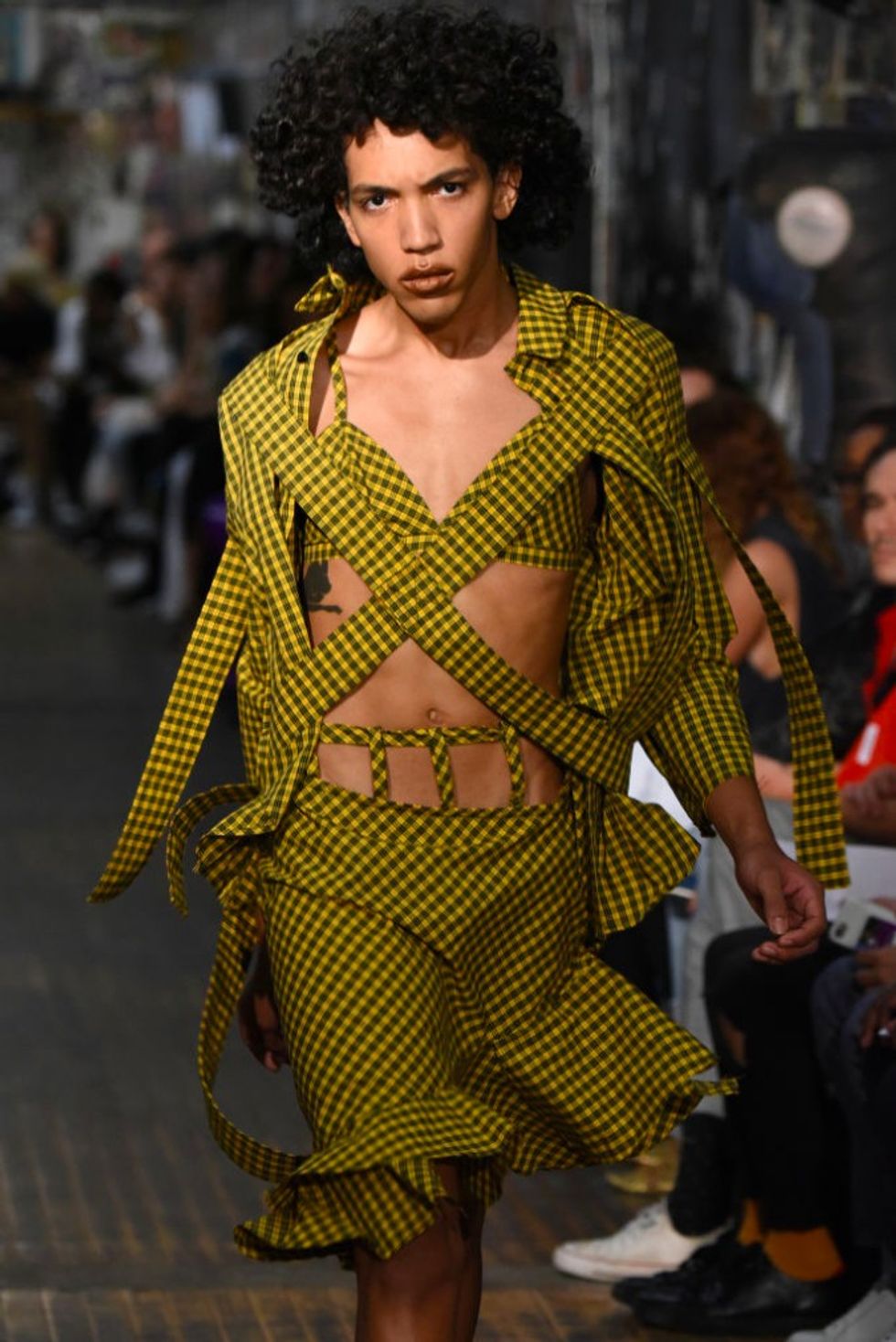 With cut-outs, a bikini top, and straps galore, this ensemble pushes the boundaries of power suits. Vaquera creates and sells their styles as unisex pieces. Snuggle factor: 4/10.
Honestly, this is the zaniest, but most ready to wear thing we've seen all day.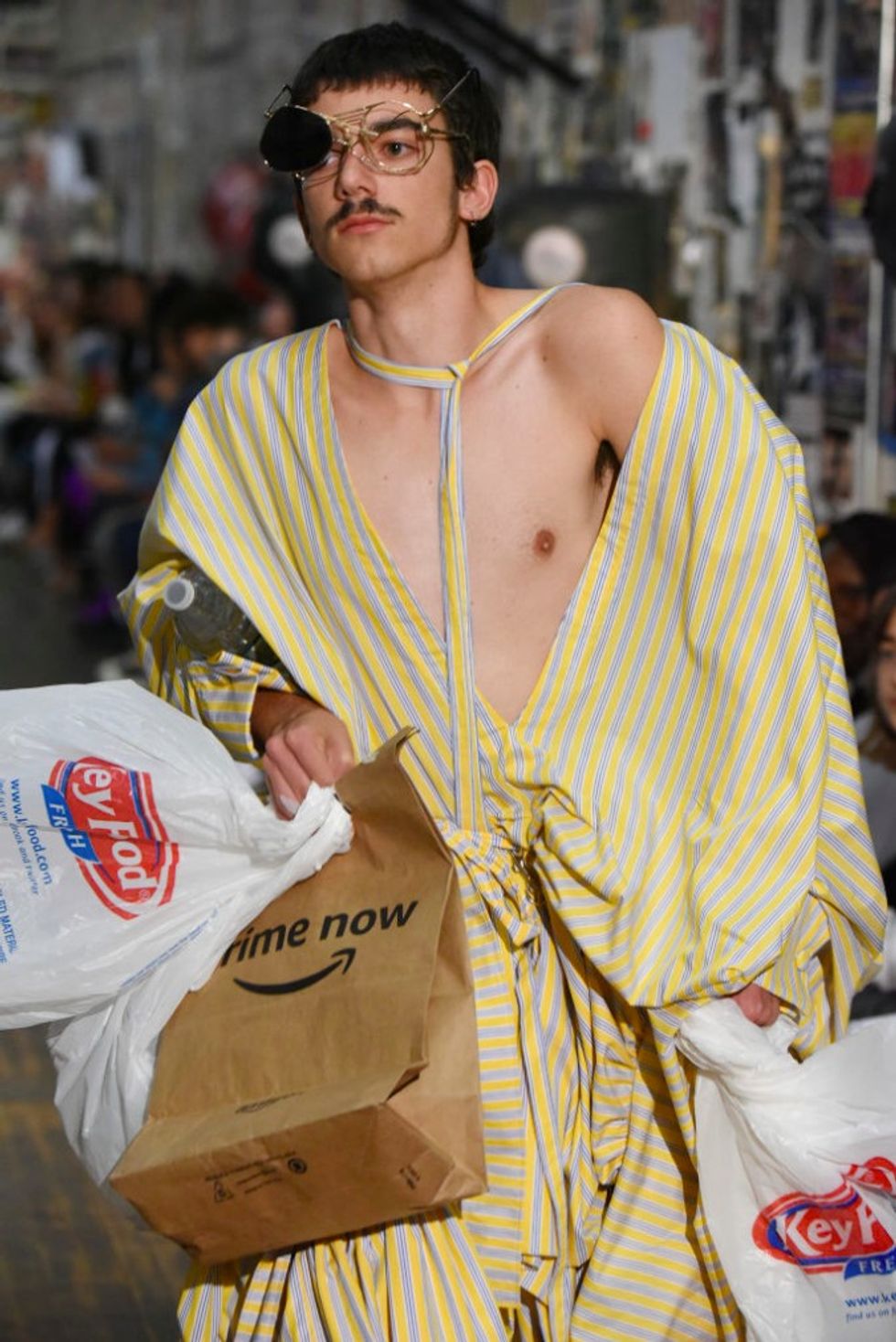 As of this moment, you can't let anyone tell you that wearing something like this is not high fashion! No longer feel shame if you take out the trash wearing only a sheet or if you lose a frame on your glasses. Use this image as validation for your late-night-grocery-store-run outfit choices. Snuggle factor: 9/10
Who doesn't need an outfit that reminds everyone of the great country in which we live?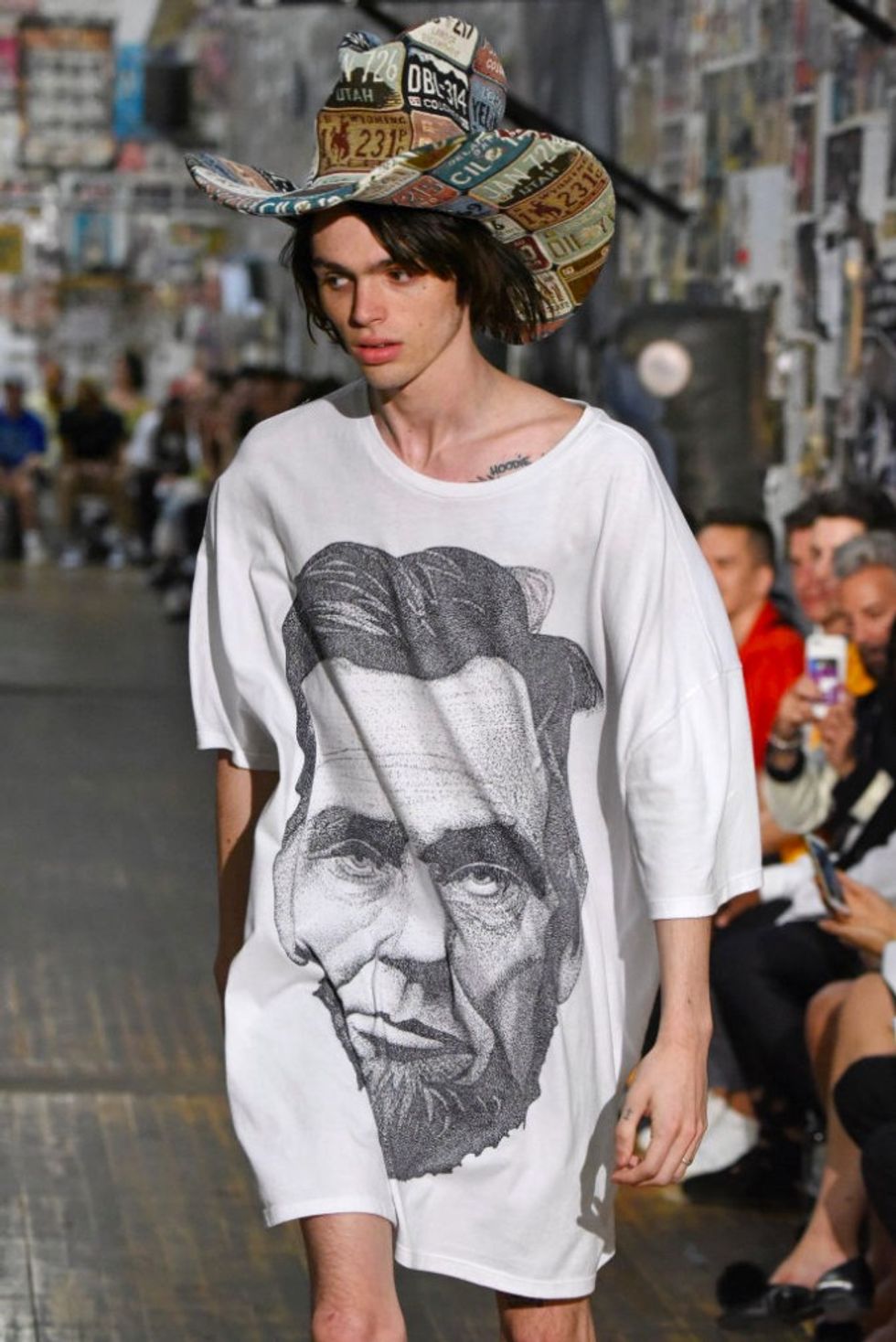 This Abe Lincoln emblazoned shirt dress paired with a cowboy hat covered in United States license plate screams USA like nothing else. Would you wear this to the next Fourth of July barbecue? Snuggle factor: 9/10. What do you think about these catwalk looks? Which do you want to see in stores? Sound off on Facebook!