This week we saw a whole host of A-listers hit the red carpet for the annual MTV VMAs, celebrating the best in music.
During the course of the evening, we watched some of the industry's biggest names bag some pretty huge awards as well as performances from several celebs, including Taylor Swift, Camila Cabello, and Lizzo.
But guess who stole the show? Nikita Dragun, of course. The "Mother of Draguns" walked down the red carpet with men on leashes... yes, you read that correctly. Prepare for the photos, because this one is going to leave you absolutely shook.
Did you watch the annual MTV VMAs?
This year's show strayed away from tradition.
Many fans didn't think that he was right for the job.
The bizarre thing about Sebastian Maniscalco as host: his opener was full of bits ("being triggered"/safe spaces) &… https://t.co/Qdhe56yawI

— MadBack (@MadBack)1566865274.0
Many viewers didn't understand why he was hosting the event, and, with several of his jokes branded "tasteless," it seems like people think that he simply didn't know his audience.
His opening monologue, in particular, came under fire.
we're 20 mins into the #VMAs & the washed up host has already made a 'triggered joke' & mocked safe spaces... 🙄

— grayden ♡ (@grayden ♡)1566865210.0
Before wrapping up his opener, the comedian mocked the current social climate. "MTV noticed that we're living in ultrasensitive times," Maniscalco said. "If you feel triggered or you feel offended by anything I'm saying here or anything the musical artists are doing, they're providing a safe space backstage where you'll get some stress balls and a blankie and also Lil Nas X brought his horse which will double as an emotional support animal. If you'd like to talk to your ushers they'll send you back to where that's happening." And, of course, the exact people that he was targeting took to Twitter to slam the host.
But, backlash aside, we had an exciting night ahead.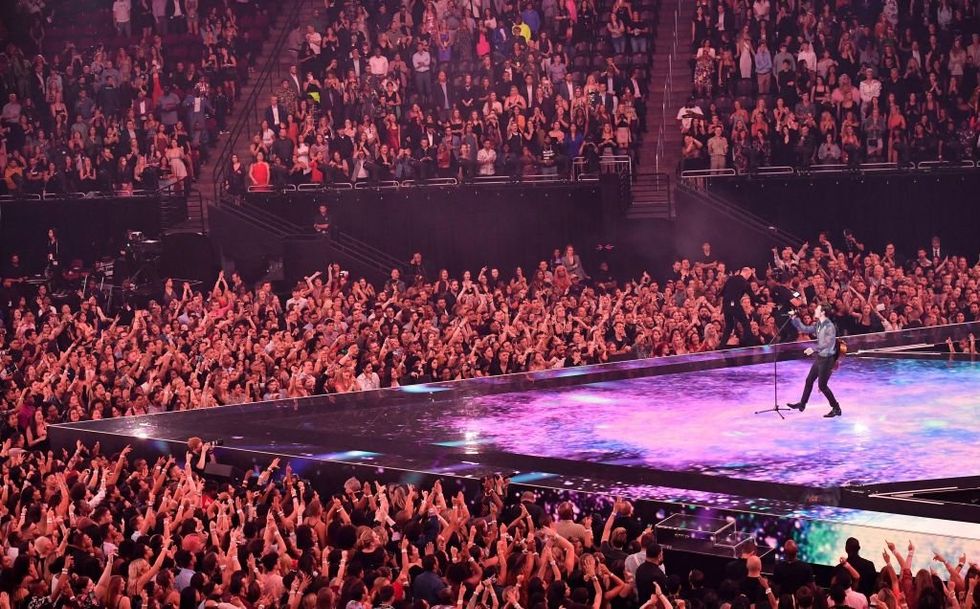 We all wanted to know who would be taking home the top awards, as well as what our favorite stars would be wearing when they graced the red carpet.
On the red carpet, we were wowed by many of the top stars.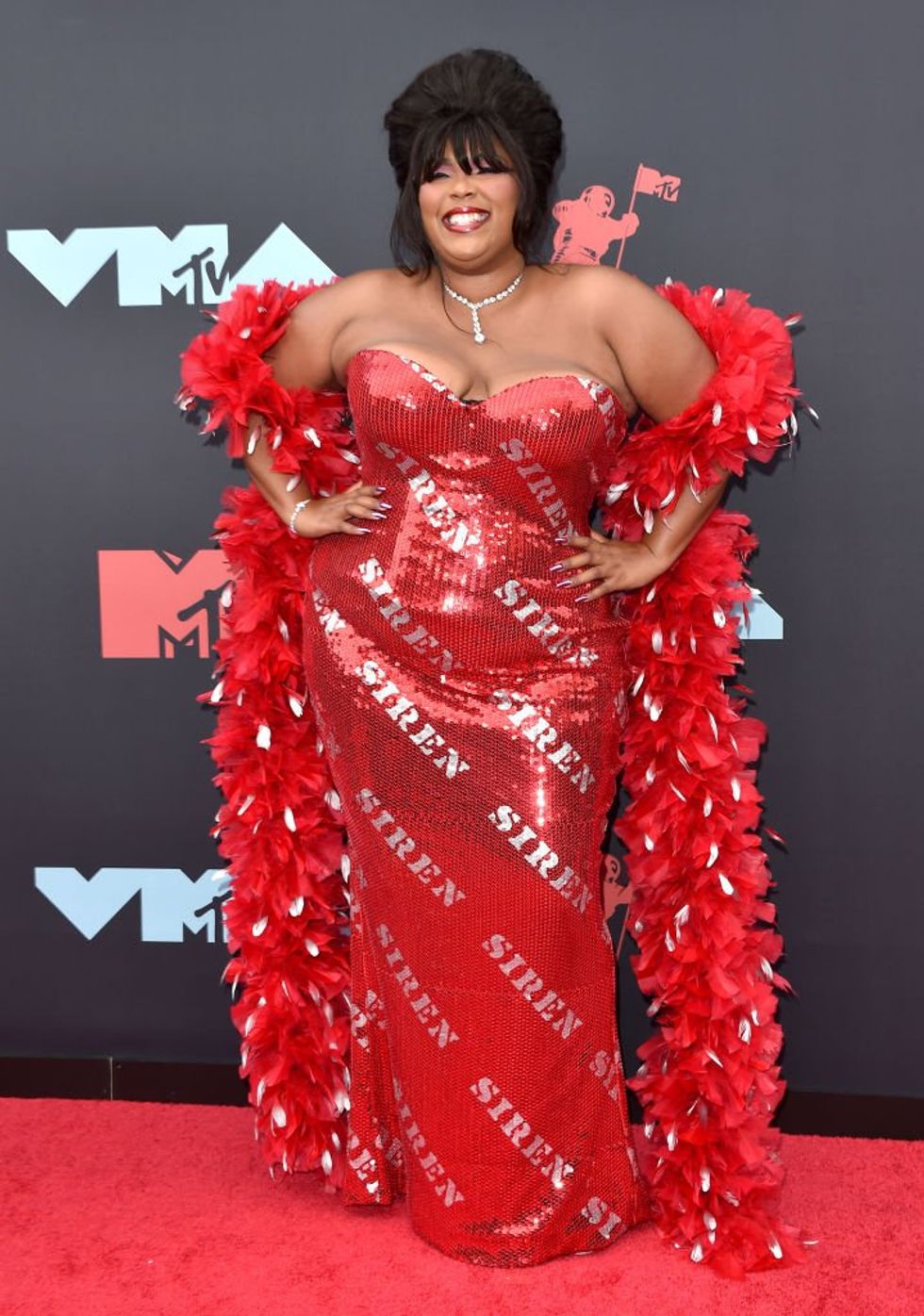 There's no better place than the VMAs to sport a head-turning ensemble - there are zero fashion rules at
this
awards show. From stars such as Taylor Swift and Megan Thee Stallion rocking the blazer vibe, to Lizzo's head-turning red-number, the fashion looks certainly didn't disappoint this year.
Hailed as one of the best-dressed, Zara Larsson, stole the show.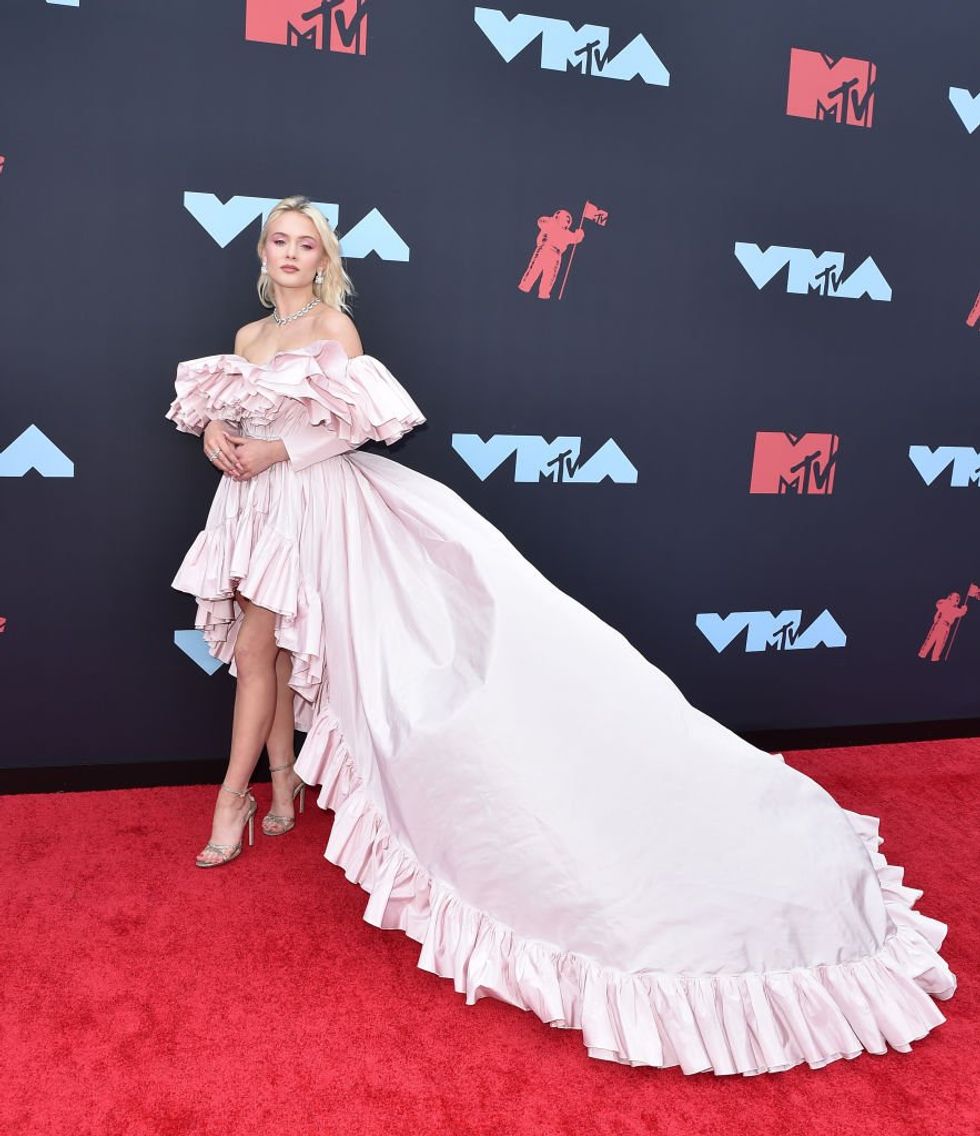 The Swedish pop powerhouse gave us
major
princess vibes in this floaty, pastel pink gown.
But, music-wise, it was a jam-packed evening.
Miley Cyrus
, and musical newcomers including Lizzo, Lil Naz X, and Ava Max, we were in for an electrifying setlist.
And, of course, we got to find out who would be bagging an award.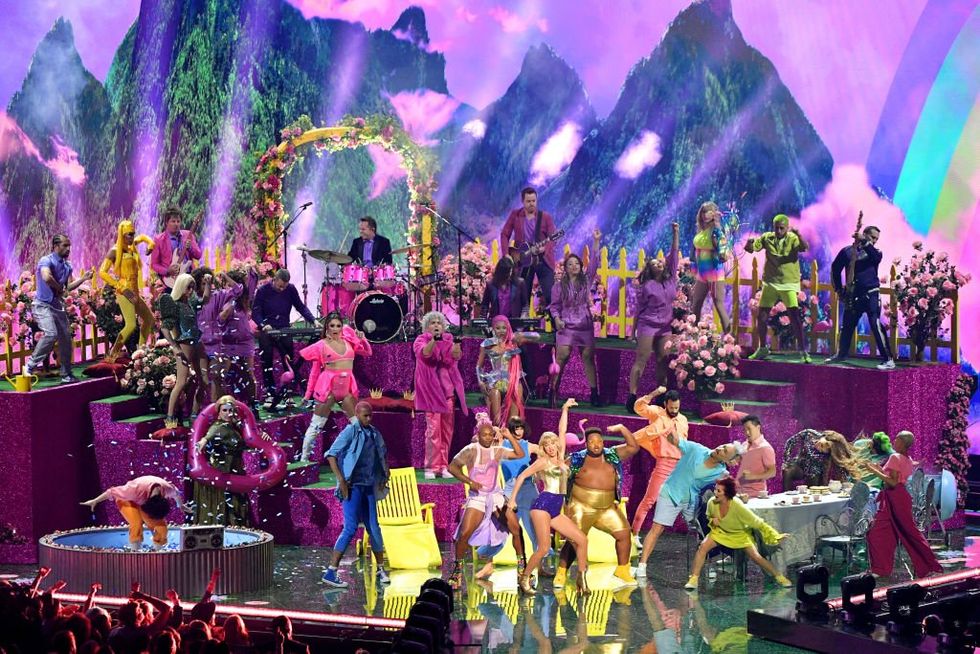 Pop sensation, Taylor Swift, raced ahead, taking home the award for "Best Music Music Video" and "Video For Good" for her acclaimed "You Need to Calm Down" single - praised for its trailblazing LGBTQ+ representation. But it didn't end there for the star, who also bagged the "Best Visual Effects" award for her single "ME!" ft. Brendon Urie.
It was also a good night for seventeen-year-old Billie Eilish.
and "Best Editing" for her hit song "Bad Guy."
The "Best Pop" award went to an unlikely winner.
Normani and Korean pop band, BTS, also won big.
BTS, who've quickly risen to pop stardom, won "Best Band," and "Best K-Pop,"  with former Fifth Harmony member, Normani, bagging the prize for "Best R&B" for her hit single  "Waves" ft. 6LACK.
"Artist of the Year" is probably the one you've all been waiting for.
Shawn Mendes
to be crowned artist of the year.
But it didn't stop there for the star.
It looks like the pop sensation was in for a huge winning streak, also taking home the awards for "Song of Summer" for her latest single, "Boyfriend," and "Best Art Direction," for her popular single "7 Rings."
Another of the night's top prizes went to Lil Naz X.
probably know what for. The star won the award for "Song of the Year" for his chart-dominating "Old Town Road" Remix with Billy Ray Cyrus.
But the real star of the show had to be Nikita Dragun.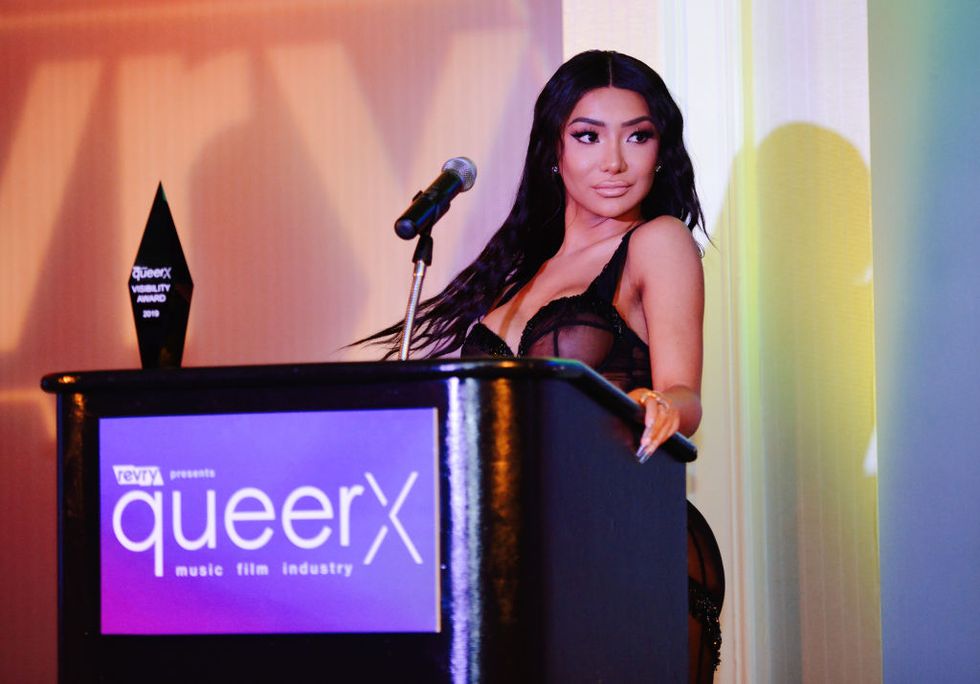 I'm sure you've heard of her, right? She has taken the world by storm with her talent and interesting, borderline risque, content that she posts on her socials.
But you know what? We're here for it!
And, at the VMAs, she once again proved why she is, in fact, one of the baddest b*tches on the planet, next to Beyonce, of course.
This girl really knows how to make an entrance, that's for sure.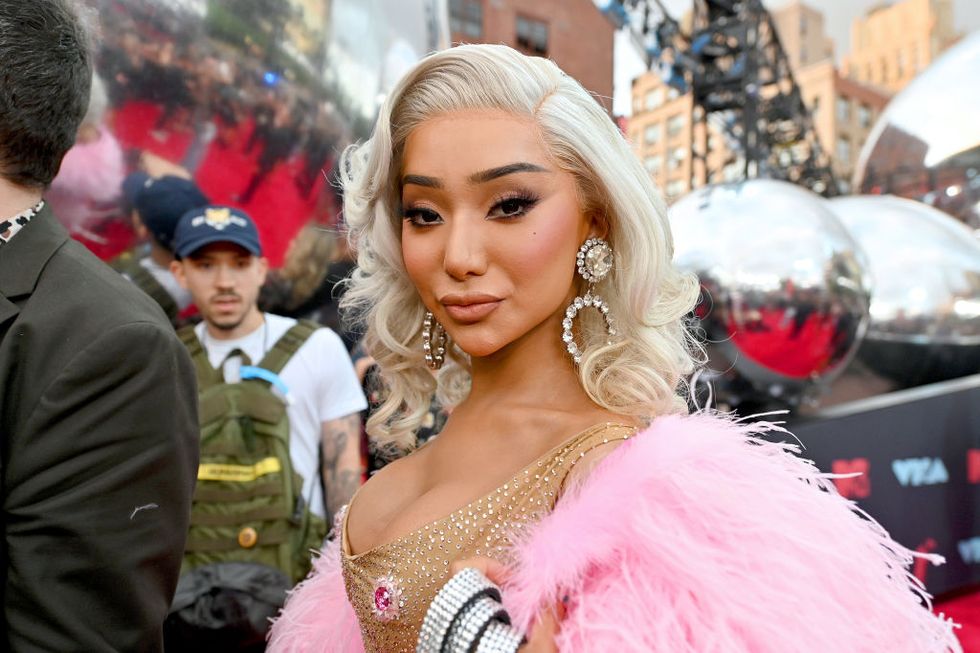 Dragun decided that she didn't want to walk down the red carpet alone. Instead of finding a date, like any normal, boring person would, she took it upon herself to find
three
male models to accompany her on the carpet.
But they weren't just walking beside her, because walking's overrated, right?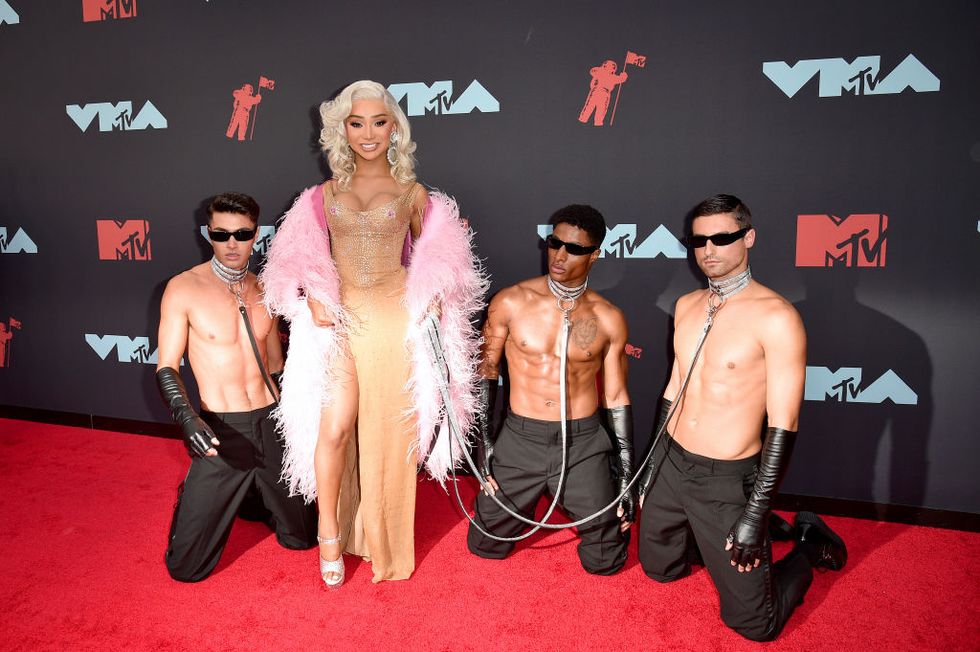 Dragun gave them each a silver-studded collar which was tied to a leash and each of the men
crawled,
and occasionally posed behind her, as she strutted down the red carpet.
She posted the images to her socials and the whole of the internet went crazy over them.
Some people were outraged at her antics.
Tried to hold my tongue…but seriously, you're supposed to uplift the LGBTQ+ community, in particular the transgende… https://t.co/KgWmmi5oQV

— Kevin James Bennett (@Kevin James Bennett)1566950923.0
This user expressed that she's a bad example when it comes to uplifting the trans community.
"This is not offensive."
i gotta admit, Nikita Dragun's stuff with the male models on a leash at the VMAs is not really too offensive. they… https://t.co/2eyiPekIJa

— 🏴‍☠️ A Crappy Pirate 🏴‍☠️ (@🏴‍☠️ A Crappy Pirate 🏴‍☠️)1566975419.0
This shouldn't be considered offensive for a better reason than "they were wearing pants."
"If men did that..." They already did.
@DailyMailCeleb If a man did that........ #VMAs #VMAs2019 #nikitadragun

— Charlotte Crowe (@Charlotte Crowe)1566898861.0
Back in the day, Snoop Dog did the same exact thing, but with two women, instead. But Nikita is going to enlighten you on why, when
she
did it, it simply 
isn't
problematic.
Nikita herself responded to the hate the only way that a bad b*tch would:
reverse sexism? sexism is prejudice + power. men are the dominant gender with power in society. my VMAs outfit was… https://t.co/oCWfqiNfp8

— Nikita (@Nikita)1566953211.0
She brought the facts. And nothing but the facts.
So, whatever opinion you hold on the entire thing, there's one thing you have to admit...
ICONIC @NikitaDragun shows us how to SLAY all day, every day! #vmas 🐲🐉 https://t.co/CkEru9xbfb

— PrettyLittleThing (@PrettyLittleThing)1566869523.0
Nikita knows how to make a statement and the beauty guru will continue to do so as she dominates the industry and the entire world. If you want to see who else absolutely slayed the red carpet, then just keep scrolling.