News just in… Chris Evans finally has an Instagram account!
And believe it or not, he is dedicating it to sharing photos of his dog…
The first of which, let's face it, is being an absolute heartthrob.

Here he is, casually pulling bits of wood apart, for your viewing pleasure. What a great guy.

And, to be fair, he's something of a superhero himself. He rose to fame playing the Human Torch in The Fantastic Four franchise.

Evans plays Steve Rodgers (perhaps better known as Captain America) in the Avengers franchise in the Marvel Cinematic Universe.

Everyone can't help but be obsessed with him as a person. From his love of dogs to his adorable facial expressions, Evans knows how to let loose and have a little fun.

Evans has been romantically linked with many-a-woman over his career, including some famous faces. Not every relationship had been confirmed by the man himself… But regardless, we shipped them all!

This romance lasted from 2001 until 2006 when both actors were in the early stages of their careers. After they broke up, Biel went on to date Justin Timberlake before she married him.

That's right. After admitting his childhood crush was Bullock, they were seen out having dinner together on multiple occasions. A source also told us that "they haven't put a title on it, but they really like each other."

And unfortunately (but fortunately), Chris Evans is the only Chris in the MCU that is currently single. Chris Hemsworth and Chris Pratt are both in relationships, which means Evans is the only one that might be walking dateless on the next red-carpet.

Dogs. That man is completely obsessed with pups, but, I mean, who isn't?

And the pair seem to be completely inseparable.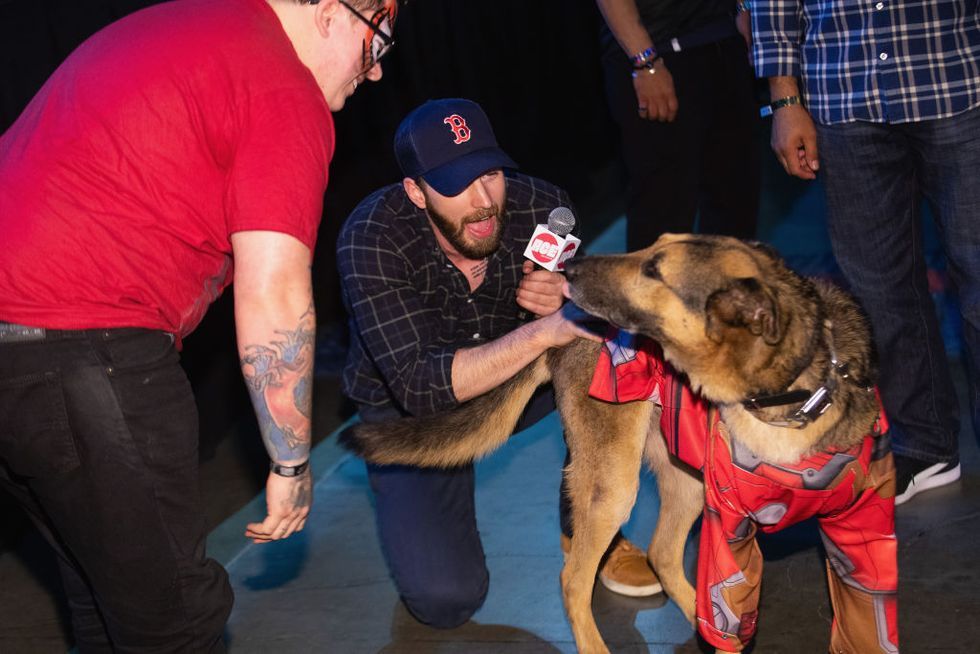 During Comic-Con, Evans was in the middle of speaking when he spied a cutie in the audience – in costume, of course. So Evans did what any reasonable man would do – he leaped off stage to pet the little guy. He told his fans, "God, dogs, they're such great animals. I really can't say enough about dogs, I'm a dog lunatic."

ET's Keltie Knight sat down with the actor to discuss his new murder mystery film, Knives Out where he was talking about his bond with his own pup, Dodger.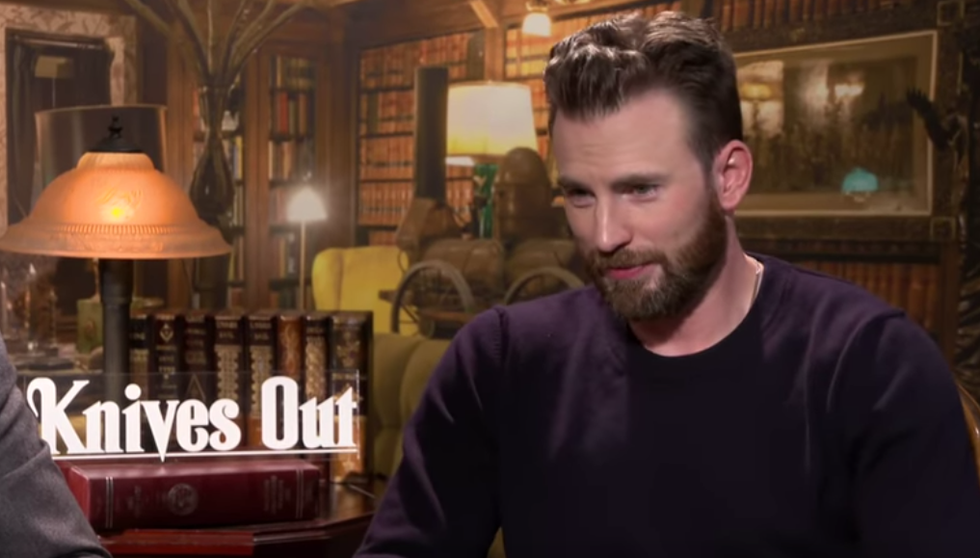 "Dogs are just so good and so pure. A weird, little door unlocks inside of you, this new level of empathy… in a weird way, that type of empathy permeates so many aspects of your life…"

And it turns out that this love is the reason behind Evans finally getting an Instagram account.
Yep, you heard that right – Chris Evans now has Instagram!

He is raising money towards the global pandemic, and if this doesn't make us love him more, we don't know what will!

He uploaded this photo of the home quarantine haircut he gave Dodger, which didn't turn out exactly the way he hoped.

And last week, he appeared on The Tonight Show Starring Jimmy Falon.
Evans spoke about his disastrous attempt at trimming Dodger's fur: "I had done it once before, right when quarantine began. I gave him just a little bit of a trim, and it went great! So I got a little bit confident and put on a shorter attachment."

Purely to share adorable photos of Dodger. Amazing.

"I guess I caved, I feel like such an old man. You know what it is? I had too many good pictures of my dog. I was like, they're being wasted in my phone!"

And we can only imagine that number is going to grow and grow… following the cute pics of Dodger, of course!