While every department store around the country has turned their eyes toward Christmas, we here at 22 Words still value a tradition that involves driving way too far to share a meal and about three more beers than what you're normally comfortable with. Oh, and of course you'll get to share what you're thankful for this year with close family, those of which you may or may not hate due to what they said last Thanksgiving.
My advice for you is to find a TV with Netflix, sneak away and put on some reruns of Friends. If someone walks in on you watching, pretend to be asleep and blame it on all the Tryptophan in the turkey that hasn't even been served yet. Because what goes better with Thanksgiving than football? Reruns of our favorite show, Friends.
And if you're anything like me, you love the quirky jokes that come from Friends, which means you'll love this article.
You all remember this famous episode.
The gang is all revealing their worst Thanksgivings ever, and Joey remembers a time he got his head stuck up Monica's turkey. And this was definitely not a euphemism. To cheer Joey up at the end of the episode, Monica slips into a turkey of her own. If you don't know what I'm talking about, go watch it on Netflix.
Look at this mug.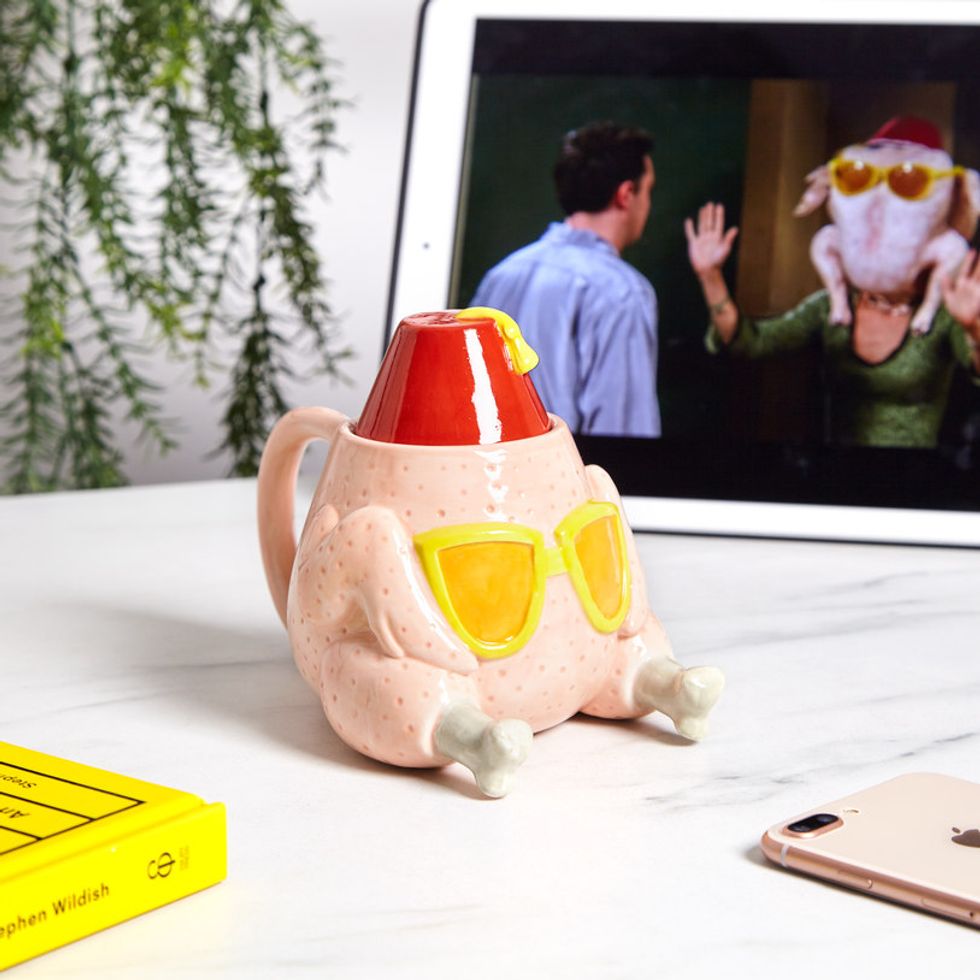 via: Firebox
Well, now you can get your hands on a
coffee mug
to constantly remind yourself of that iconic scene. Plus, who wouldn't want to sip their coffee or tea out of the cavity of a turkey every day? I know I would!
It even has a fez hat!
Why don't more coffee mugs have lids? Keep your drink nice and cozy warm with a little lid you can take off and wear when it's not on the mug. This is the ideal receptacle, people.
Sadly, it doesn't shimmy.
Unless you hid like a small animal inside, but that seems kinda unethical. You can also buy this mug for your boyfriend to finally get him to say, "I love you" and then immediately take it back.
The company is still working on bringing the "Moist Maker" to market.
For those not in the know, it's a sandwich! Get your minds out of the gutter. Honestly, it sounds like the ultimate Thanksgiving leftover sandwich. Something to enjoy with a nice hot cup of tea sipped from a Monica Turkey Mug.