Netflix recently established a new tradition, involving the release of holiday-themed movies every year. Cinematic masterpieces they are not, but we're sure these movies aim to provide simple moments of joy with their kitschy music score and familiar plot. If you were ever lucky enough to happen upon a Hallmark Channel movie – then you know what we're talking about.
Last year, Netflix's next big holiday romance is The Princess Switch. Starring Vanessa Hudgens, it was the all-grown-up Parent Trap you never asked for or even knew you wanted.
And now the feel-good, instant classic has had a sequel announced!
It's "The Parent Trap" meets Christmas.
So, the movie doesn't feature twin sisters – it's two identical strangers who pull off the switcheroo! Vanessa Hudgens played dual roles in a movie all about innocent romance and mischief.
Here's the gist:
Stacy, a Chicago baker, and Margaret, the Duchess of Montenaro, meet at a Christmas baking competition. And surprise! They're identical. So when Margaret reveals that she's set to marry Prince Edward on Christmas, she asks to switch places with Stacy to experience a normal life before she becomes royalty. Once they switch, it's a difficult adjustment. And, of course, they both begin to fall in love; Stacy with the Prince, and Margaret with Stacy's attractive male friend. Cue the Christma mischief!
Check out the trailer:
Cute, right? Plus, when you consider last year's Christmas hit,
A Christmas Prince
, it seems like Netflix has this feel-good Christmas formula all figured out.
And people are so ready for some Christmas joy.
The Princess Switch starring that ball of sunshine Vanessa Hudgens looks like just the kind of thing our country needs

— eclairs (@eclairs)1541614637.0
A little extra happiness can't come soon enough!
So, on November 16th, get comfy and prepare for some major fluff!
Honestly, though, sometimes we have to turn our busy brains off and have fun. And that's exactly why movies like this are made.
The movie ended like any feel-good watch.
There was a happy ending, and everything was untangled perfectly.
But fans of the original have had some exciting news.
There's a follow up to The Princess Switch coming out - and it sounds just as cute 'n' kitschy as the original.
Think two identical strangers were unlikely?
Well, guess what? The Princess Switch 2 brings in yet another Vanessa Hudgens lookalike.
We know, we know.
It sounds more than a little bit unrealistic. Even for a silly Christmas movie, this seems to push the limit.
But, let's face it.
Reality is not what these sorts of movies are all about. They're about that warm and fuzzy, holiday feeling - and The Princess Switch delivers on that.
Where else would you find a movie with 2 Vanessa Hudgens?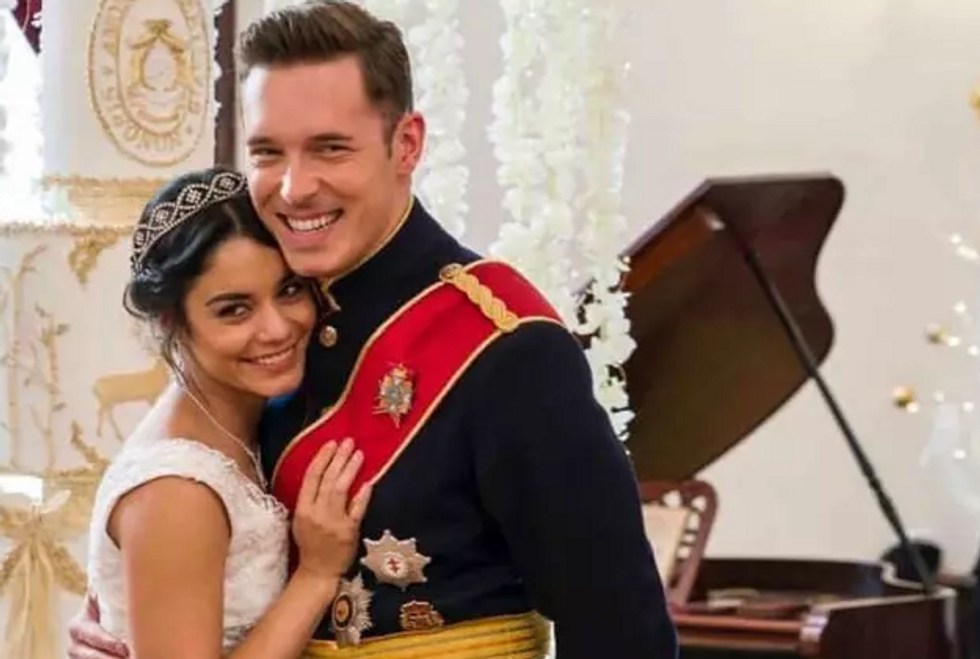 Or, better yet, 3
?!
People have gone wild for this description.
This ACTUAL summary of the upcoming Princess Switch sequel is the best gift I've ever received in my life: https://t.co/xC8BDweRty

— Jen Abidor (@Jen Abidor)1572384733.0
It does almost seem like a piece of surrealist comedy, right?
And some have taken it a step further.
The tweets about the second princess switch movie are actually making me laugh out loud https://t.co/mORiTjKadf

— Aunya Butler (@Aunya Butler)1572453332.0
Hey, if 
The Fast & The Furious
can do it, why not 
The Princess Switch?
Some have high hopes.
I hope this becomes a megafranchise with like 100 different Vanessa Hudgenseseseses and ends up merging with Jet Li… https://t.co/CVikiPBP8p

— Daniel Kelley (@Daniel Kelley)1572385306.0
Maybe every year from now on, we'll get an even more outlandish sequel involving the discovery of 
another 
Vanessa Hudgens clone. We can only hope.
Maybe this is the birth of something beautiful.
@PrettyMuchIt Please... give us the princess switch cinematic universe where each movie gains a new Vanessa.

— maclunkey (sonya) (@maclunkey (sonya))1572385210.0
And if not? Hey - at least we get one new chapter in 
The Princess Switch 
story. Curious about the other Netflix Christmas launches? Keep scrolling - there's 
another 
that features Vanessa!