It turns out that 1 in ten people think that it's classed as cheating if their partners eat McDonald's without them.
Do you agree? Read on to see what hungry couples had to say...
When it comes to fast food, McDonald's reigns supreme.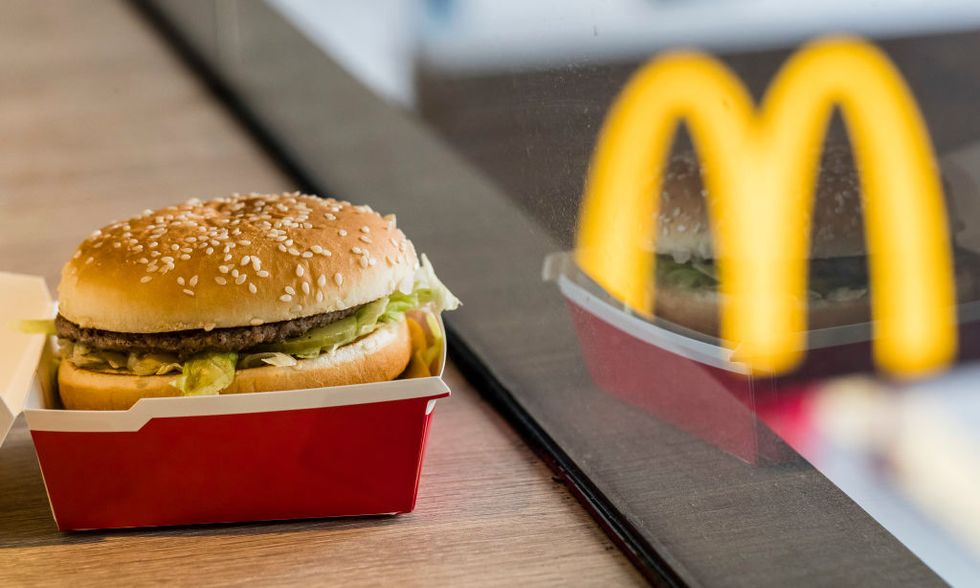 via: Getty
Founded in 1940 in San Bernadino, California, McDonald's has gone from strength to strength since.
And there's a good reason for their success.
And don't even get us started on McDonald's chicken nuggets...
who doesn't like nuggets? (Apart from veggies and vegans, of course!).
There's also a whole range of delicious items for vegetarians and vegans...
Including the veggie burger, the iconic McDonald's fries, and a selection of sides such as the amazing cheese dippers.
And the famous McFlurries...
No words are needed!
All in all...
McDonald's is perfect for any occasion and thanks to many of their restaurants now being open twenty-four hours a day, they're always there for us.
Sharing a McDonald's can be a very intimate thing...
And many couples all around the world enjoy indulging in the fast-food together.
There are many hardcore Maccies' fans out there...
that dedicated, they consider their other halves to be cheating if they pay a visit to their local McDonald's without them.
Yep, you read that correctly.
Some people are that passionate about their time in McDonald's, they don't want their partners going in without them!
Of course, these attitudes have changed over the last few months thanks to the pandemic...
And the proof?
Well,
according to a poll
of 1,000 fast-food fans, one in twenty are desperate for a taste of Maccies after months of going without and would break up with their other half if they went for a sneaky drive-thru alone.
And even more alarmingly so...
better than a pay rise.
So it turns out that McDonald's can make or break a relationship...
And it seems that a lot of people can relate to this phenomenon.
People took to social media to share their relatable stories following the revelation.
"100% worse... He had one while I was 'on a diet'. I didn't talk to him for 2 days after that!" one frustrated girlfriend wrote on Facebook.
McDonald's is a big deal...
Many take this very seriously...
"I would 100% agree with this, eat a McDonald's without me and you're finished," one girlfriend wrote threateningly to her other half.
But some couples feel that this is all very unnecessary...
Each to their own, we suppose!
But the one thing that we can all agree on is that McDonald's is a delicacy not to be underestimated! Keep on reading to see the 9-year-old cry tears of joy when he ate his first McDonald's meal in months...