The high school experience is a mixed bag. Pressures from class, homework, and team sports can pile up into a difficult mountain of adolescent responsibility. Toss in making friends and possibly deciphering the dating scene, and things can get downright overwhelming.
But what if you're a high school student trying to do all those things plus battle cancer?
It's a scenario that no one wants to imagine, but it's a reality for one student braving both school and leukemia. Luckily, he's got a strong support system, and what happened to him recently proves he may have some of the best friends a guy could have.
Starting the fight against cancer is an uphill battle.
Getting the devastating news about cancer is overwhelming, but besides the long stretches of treatment, Blake Mounts knew he was also going to miss out on a lot of important things at school. Senior year is a busy time, full of final tests and festivities, and any dances had been added to the list of things the teen knew were probably out of the question.
A strong support system is always good to have in your arsenal.
I'm raising money for Help Blake fight leukemia . Click to Donate: https://t.co/jXbytQ1kg3 via @gofundme

— KoKo (@KoKo)1506354089.0
Blake is obviously a fighter, but he's also one of the lucky people who also has a great network of support in his corner. Friends and family have stepped up to the plate to care for the high school student and shed more light on childhood cancer through time, commitment, and spreading the word through social media.
In the meantime, his family is doing an amazing job keeping everyone in the loop.
Not ones to keep their struggle shrouded in secrecy, Blake's family has done a wonderful job of letting everyone know what's going on and how they can help. From a GoFundMe account to #blakestrong t-shirts, this caring clan is doing their upmost to help the guy they love. Just one look, and it's easy to see this teen means the world to those around him.
But no matter how much support there is, some things just don't work out.
Thanks for sharing your bed w me today❤️ https://t.co/dM7JiVVnS2

— tay mounts ♡ (@tay mounts ♡)1505914092.0
Certainty is an idea of the past for Mounts, so it came as no surprise that he'd be missing out on a ton of important events at school. One of these would be senior homecoming. With circumstances as they were, the high school student had all but accepted he'd have to miss out on one of the biggest highlights of senior year.
Then again, sometimes people go out of their way to make good things happen.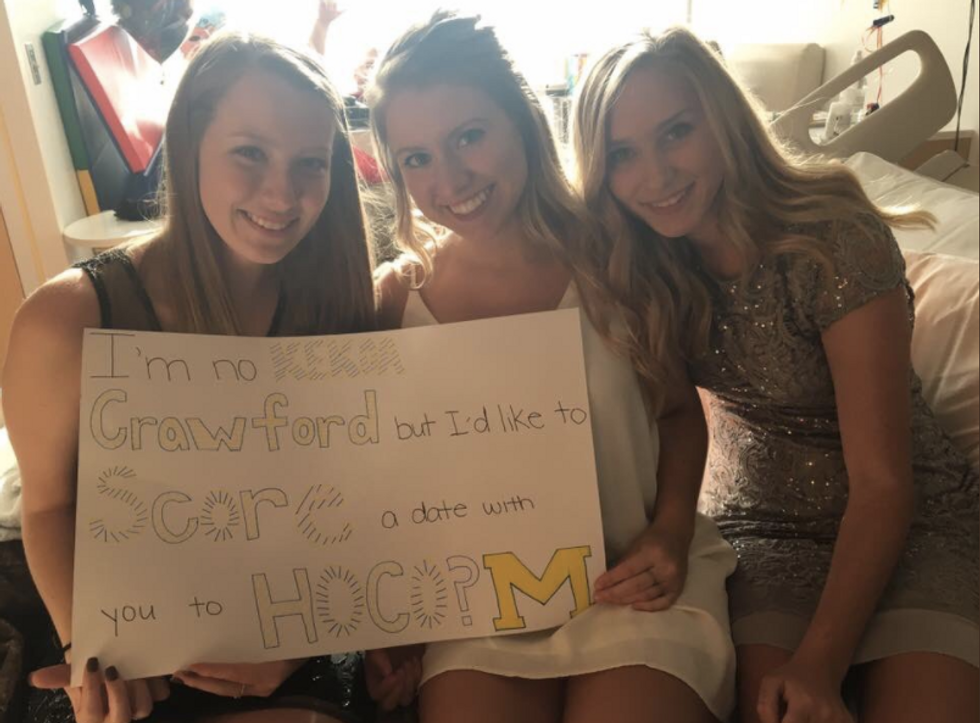 via: Twitter
Mounts' sister, Taylor, along with some good friends, recently showed her love by making it possible for her brother to experience at least a little bit of the thrill of getting to go to his homecoming. But anything like that has to start with a proper invitation, right?
The reaction on a good friend's face is worth a thousand words.
A moment I'll always remember https://t.co/JdFsRre9H2

— KoKo (@KoKo)1506308406.0
In this clip, Mounts' friend, @kaaitmichellee, shows what the surprise moment was like from her perspective. It's clear that the awestruck high school student had no idea what was coming, and his reaction is priceless. We're not crying, you're crying.
There's no doubt about it, this guy's got an amazing sister.
Nobody should ever have to miss their senior homecoming! His reaction will make your heart so happy❤️ love ya bubby… https://t.co/9vTpe2l9CC

— tay mounts ♡ (@tay mounts ♡)1506461808.0
Mounts' sister posted this second emotional clip on Twitter. This video is shot from her brother's perspective, as his friend enters the room to surprise him. Her caption here says it all. No one should have to miss anything because of cancer, let alone a senior homecoming for a much beloved brother.
It wasn't a wasted effort, in the the least.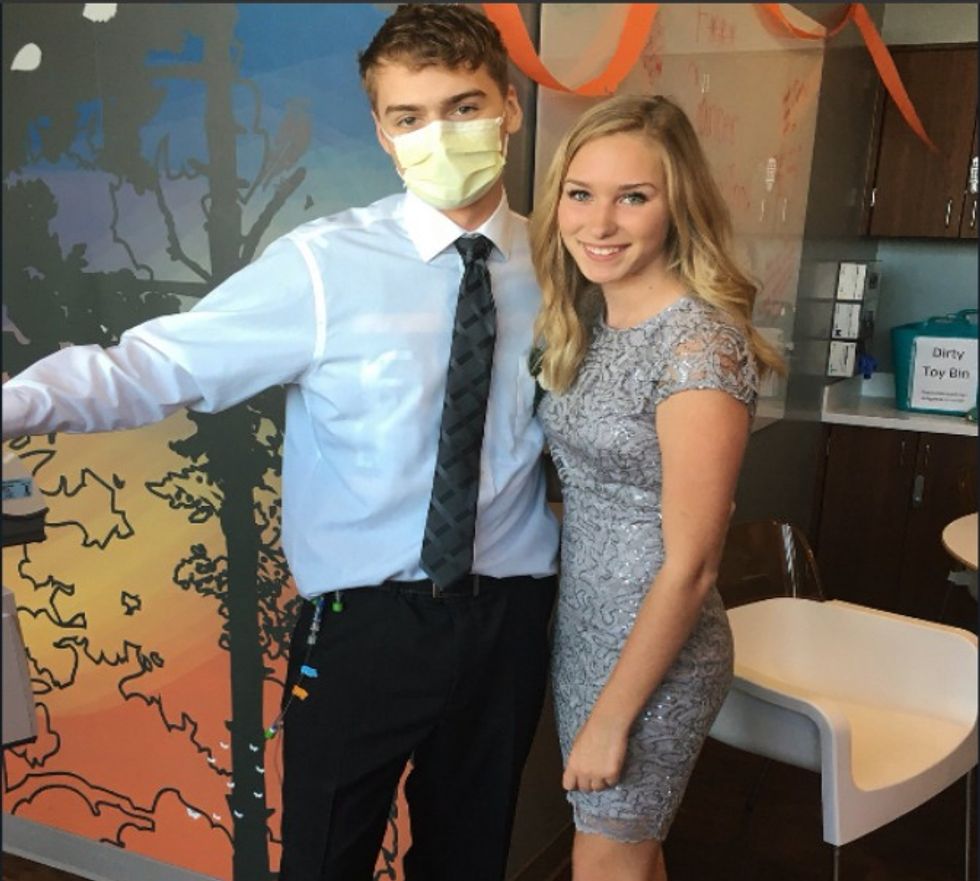 via: Twitter
All things considered, it would've been easy for Mounts not to be up for an impromptu homecoming. Chemo therapy, doctors appointments, and trying to keep up with treatment go beyond exhausting for the average person. But it was actually quite the opposite. Thrilled, he dressed to the nines and fully embraced the special even his friends put together for him.
He even completed the obligatory picture montage.
We threw him a homecoming at the hospital for him ❤️. Much love for you #blakestrong 💪🏼💪🏼💪🏼💪🏼 #fuckcancer… https://t.co/v1G2m9EwBR

— Motivational Marilyn 🙏🏼❄️ (@Motivational Marilyn 🙏🏼❄️)1506300815.0
What homecoming would be complete without a barrage of adorably staged photos? Mounts was more than happy to pose for multiple pictures with his sister and his close friends. The above tweet from Mounts' good friend,
@Marilynrice32
shows an adorable grouping of the two of them. The high school student captured numerous memories that will definitely be treasured by everyone involved in the big day.
The whole gathering was not only endearing but hit home with a lot of people.
The selfless and heartwarming act by Mounts' sister and his friends definitely struck a cord on social media. There was an outpouring of support for the teenager's struggle, and the overall sentiment was one of being moved to tears by the sweet homecoming surprise. But one Twitter user,
@mirandantargum
, pointed out that the trials like Mounts' also inspire grateful hearts in others. And that's a big thing.
We agree with him wholeheartedly.
With such a kind and indomitable spirit, we doubt this is the last we hear about Blake Mounts. And with such an intensely caring group of friends and family behind him, there's a an excellent possibility this courageous teen will win his battle. We truly hope so.